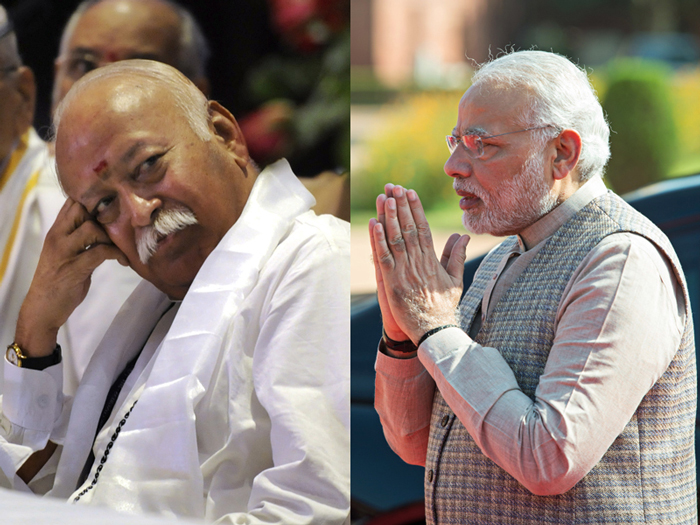 Rashtriya Swayamsevak Sangh has every now and then made controversial statements that have embarrassed BJP. Now, Mohan Bhagwat's call for quota review has come at a very bad time for BJP which can't afford to annoy the voters of Bihar, especially those who enjoy the fruits of reservation. This surely is going to have repercussion during Bihar polls for BJP as the rival parties have started targeting it for allegedly taking steps that go against poor and backwards.
Mohan Bhagwat calls for a panel to "decide which categories require reservation and for how long". BJP has said that it "very clearly does not support any reconsideration of the existing constitutional provision of reservation for the SC, ST, OBC and Extremely Backward Classes."
RJD and JD(U) have pounced on the Bhagwat's statement to attack BJP which is forced to release clarification so as not to offend the voters.
Surely, BJP depends heavily on the administrative network of RSS which enabled it to come to power at the Centre. Now, the BJP can't appear to be always taking cues from RSS but the situation seems to be getting tough for the saffron party.
Prime Minister Narendra Modi has been claiming that his party works on the principle of "Sabka Saath, Sabka Vikas", but numerous statements coming from RSS leaders have only served to annoy or threaten minorities.
Here are some other controversial statements made by RSS
Mother Teresa controversy
RSS chief Mohan Bhagwat courted controversy when he remarked on Mother Teresa's work and connected it with the motive to convert people to Christianity. The statement was made by the RSS chief during his address at an inauguration of a women's home at Bharatpur.
BJP faced a lot of flak from the opposition in Lok Sabha and on social platforms.
India is a Hindu nation and Hindutva is its identity
Mohan Bhagwat feels India is a Hindu nation and Hindutva is its identity. This again goes against the social fabric of India and spoils BJP government's aspiration to represent all the sections to society.
Alleged saffronisation of education in India
It is being alleged that BJP, prodded by RSS is making efforts to rewrite history books that suit ideology of saffron outfit. BJP has repeatedly refuted the allegations.
RSS controlling BJP government through remote control
When top ministers of Modi's government made a presentation before RSS bosses recently in Delhi, it raised many eyebrows. Even the ardent supporters of Modi government found it hard to defend such a move which makes the government look subservient to RSS.
Home Minister Rajnath Singh was there, as were Finance Minister Arun Jaitley, Foreign Minister Sushma Swaraj, Defence Minister Manohar Parrikar, Education Minister Smriti Irani and several others.
Behind closed door ministers made presentations during the meeting, presided over by RSS chief Mohan Bhagwat.