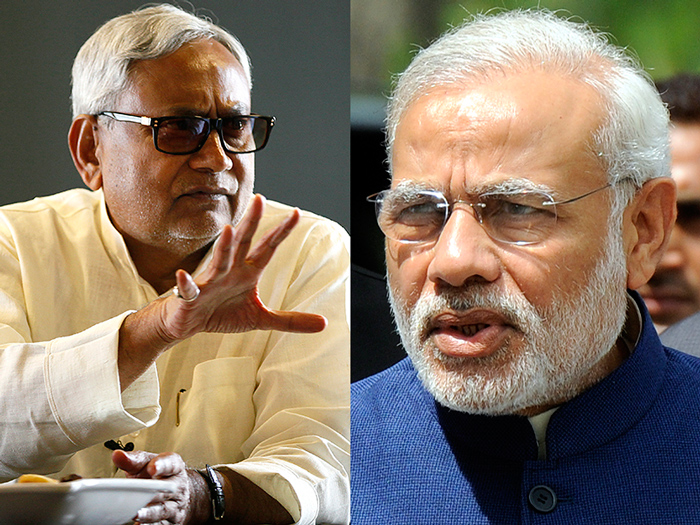 Addressing a huge rally at Banka, Bihar, Prime Minister Narendra Modi emphasised on the pro-poor policies of his government like 'Beti Bachao, Beti Padaho' and 'Pradhan Mantri Mudra Yojna'.
He also urged Maoists to give up violence and believe in the power of 'ballot'.
However, as Modi was trying to sweep Bihari voters off their feet, his arch rivals Lalu Prasad Yadav and Nitish Kumar were giving their rebuttals to his claims.
Here are the main points that the PM made and his nemeses' responses:
1) 'Bihar will celebrate two Diwalis this time, one on the election result day and the other on the actual festival.'
2) 'India can't progress without the development of Bihar and vice-versa.'
3) 'Bihar needs a government which can provide employment to the youth, help the farmers with progressive policies, and empower women.'
Lalu Prasad Yadav's response to the PM's vision: 'Modi stabbed 2 crore young people in the back by falsely promising employment. Do they have any youth leader in Bihar?'
युवा रूठा, मोदी झूठा. पहले 2 करोड़ युवाओं को रोजगार के नाम पर पीठ में खंजर खोपा जा चूका है? बिहार में कौन युवा नेता है इनके पास?: Lalu Yadav

— ANI (@ANI_news) October 2, 2015
4) Modi said that 'after experimenting with communism, capitalism, and having faced terrorism, maoism and casteism, Bihar should give vikas or development a chance.'
Nitish Kumar's response to that: 'Bihar will be run by a Bihari, not an outsider.'
Bihar ko Bihari chalayega, bahaari nahin : Bihar CM Nitish Kumar addressing a rally in Bihar

— ANI (@ANI_news) October 2, 2015
5) 'I met NRIs from Bihar in the US, they were all interested in the their state's future,' the PM said.
6) Talking about Bihar special package, Modi said that 'Bihar government isn't worth giving a single penny.' He recalled how the state government had refused centre's help of 5,000 crore during Kosi floods.
7) He said 'the Bihar government could not be trusted after what they did with Manjhi.'
8) Modi exalted NDA as a pro-poor government and talked of schemes like 'Beti Bachao, Beti Padhao' and 'Pradhan Mantri Mudra Yojna'.
मोदी जी बैकती बहुत हो चुकी. चलो किसी ऐसी योजना का नाम बताओ जिससे युवाओं का कल्याण हुआ हो? जनाब, भाषणों से पेट नहीं भरता: Lalu Yadav's tweet

— ANI (@ANI_news) October 2, 2015
9) Modi said, 'Nitish Kumar should not ask for votes as he had said in the last elections that if electricity isn't provided to the people of Bihar he wouldn't seek their votes in 2015.' In the same breath he said that his aim was to provide electricity 24 hours round the year to the poor.
10) Talking about housing facilities for the poor he said 'under NDA rule by 2022 every poor will have a house to live in.'
11) Modi hauled Bihar government over coal saying that 'while Jharkhand had risen to the third spot in World Bank's Ease of doing business list, Bihar has remained on the 27th spot.'
12) Modi also criticised the government for not being able to curb Kala-azar (Visceral leishmaniasis).
13) 'If Bihar brings NDA in power then I will be there to serve the people.'
14) Modi also appealed to the Maoists: 'Don't believe in bullet, believe in the power of Ballot'.
CM Nitish Kumar commented on Modi's silence on reservation and Jungal raj in Bihar.
...और बल देती है कि उनकी सरकार RSS के दबाव में अभी चल रही आरक्षण व्यवस्था पर पुनर्विचार कर रही है (2/2): Bihar CM Nitish Kumar

— ANI (@ANI_news) October 2, 2015
BJP says "jungle raj will come". What does "jungle raj" even mean?: Nitish Kumar

— ANI (@ANI_news) October 2, 2015
MP faces more crime than Bihar, do they have "mangal raaj"?: Nitish Kumar

— ANI (@ANI_news) October 2, 2015