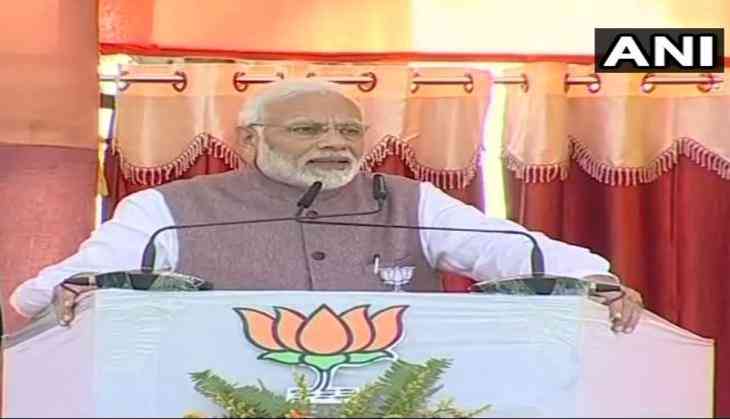 The Mizoram assembly election is scheduled for November 28 and PM Narendra Modi is rallying in the state which is currently ruled by the Congress party.
PM Modi, while campaigning in Mizoram today, said that "The work culture of the Congress has caused many projects to be delayed, leading to crumbling infrastructure in the state. However, the neighbouring states have excellent roads."
The Congress president Rahul Gandhi reverted to the attack by the BJP, saying "Before 2014, Narendra Modi promised loan waiver, bonus and better price for farmers' produce; I want to ask him why were the assurances not fulfilled."
PM Modi said that BJP's mantra for the upcoming polls is "Transformation through Transportation is our mantra for North Eastern states."
Now, as the dissidents are deserting the party, the recent name has come from the Rajasthan's Hoshangabad where Sartaj Singh has shifted the gears from BJP to the Congress.
As the Madhya Pradesh election is around the corner, veteran BJP leader Sartaj Singh, who was denied a ticket in BJP, will now contest from the Congress party.
The election in the state is scheduled for November 28 and many leaders and party workers of both the national parties have claimed that the dissidents and rebels will be expelled if they are not happy with the ticket distribution, as per the high command.
Sartaj Singh, the 78 year old leader, who was addressing a group of people outside a temple, said "It's difficult to emerge without a stain on your character in politics, but I did so despite being an MP five times and an MLA twice because I always believed that we are custodians of money meant for development of people."
Also read: MP Assembly Election 2018: Kamal Nath's assembly seat Chhindwara was demanded by Mayawati and the
#WATCH: Prime Minister Narendra Modi waves at supporters in Mizoram's Aizwal. #MizoramElections pic.twitter.com/VcEkSyxRCH

— ANI (@ANI) November 23, 2018
Transformation through Transportation is our mantra for North Eastern states: PM Shri @narendramodi https://t.co/AHRZGxlY3c #MizoramWithModi

— BJP (@BJP4India) November 23, 2018