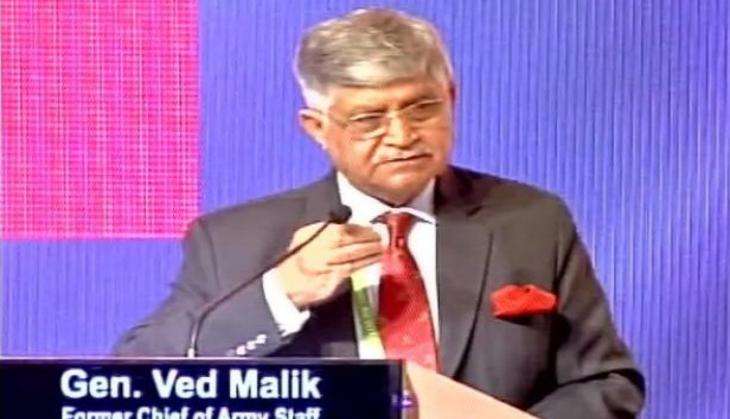 With the government miffed with wide ranging protest against the One Rank, One Pension (OROP) scheme, former chief of Army staff Ved Prakash Malik has said there has been "erosion" of soldiers' status within the government and in the society while adding that the military is no longer becoming a "prime choice" among the youth.
Speaking at the India Ideas conclave, Malik said that honour, status and emoluments have sustained the armed forces and enabled them for the right kind of leadership that is required in wars.
"By taking away its pride and status and making the career unattractive, the military is no longer a prime choice today which I believe is neither good for military or nation. I am not only talking about what the government sometimes gives, but the manner in which it's given," Malik said.
"There has been a steady denigration and erosion of soldier's status within the government and in society which is also reflected in the qualitative and quantitative delusion of the military rank and file," he added.
He called upon the government and urged them to "look after" the soldiers' needs.
Malik also highlighted that despite the recommendations in 2002, the government has failed to deliver a chief of defence staff and has failed to address many organisational problems in the defence forces.
"Questions are being raised on high defence control organisation which tends to keep the defence forces outside the decision making loop, the lack of single point military advice and desired level of coordination, planning and implementation force modernization and deterrence," Malik said.
Malik's comments comes in the backdrop of government issuing a new order lowering the status of military officers with respect to their civilian counterparts in the Armed Forces Head Quarters (AFHQ).
However the Ministry of Defence clarified their stand claiming that there had been no down-gradation or any change in the existing equivalence of the service ranks or their civilian counterparts.
"It's clarified that there has been no down-gradation or change in existing equivalence of Service ranks of Military officers whatsoever. The existing functional equivalence as clarified in 1991 and further reiterated in 1992, 2000, 2004 and 2005 has only been re-affirmed," said the Ministry of Defence in a statement.
Prime Minister Narendra Modi-led government has also been feeling the heat over the issues related to implementation of OROP scheme where the situation further aggravated by the death of an ex-servicemen earlier on 2 November who was protesting at Jantar Mantar.
--ANI