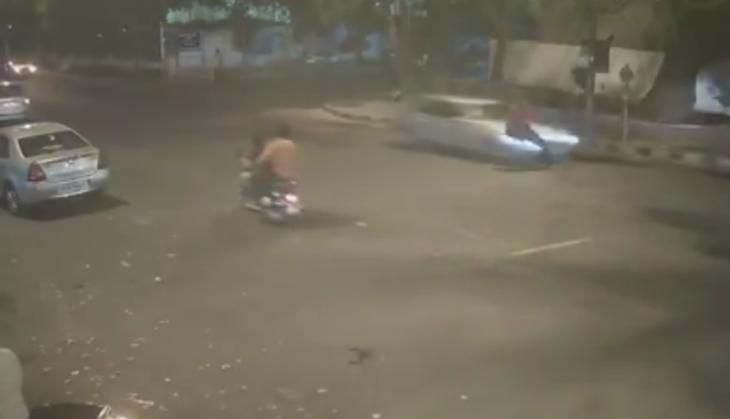 The teenager who allegedly ran over Siddharth Sharma (32) last week, was apprehended by the police on 10 April, Sunday. 
According to reports, he is now being sent to 2-day police custody, where he will be subject to custodial interrogation for the very first time since the chilling visuals of the accident had been released.
He was charged with culpable homicide not amounting to murder and sent to the Juvenile Justice home. The Std XII student was driving his father's Mercedes at the time of the incident in north Delhi's Civil Lines area.
The accused, who turned 18 on Friday, will be produced before the Juvenile Justice Board today.
The police on Sunday also arrested the man who claimed to be the driver of the Mercedes at the time of the incident but did a volte-face once he realised that the victim, Siddharth Sharma, was dead.
The driver and the boy's father, who was arrested on Friday, were produced before a city court. They were soon granted bail. The driver was arrested for the offence under section 203 (giving false information respecting an offence committed) of the IPC.
Meanwhile, the police said that the juvenile along with his lawyers came to the court to surrender and his advocates moved a bail plea.
The police said that the court refused to grant him bail on the ground that it was a matter for the juvenile justice board (JJB).
According to the CCTV footage, Siddharth was carefully crossing the road when he realised that a car was speeding towards him. He tried to rush towards the pavement but was hit within seconds.
The incident took place on 4 April, when 32-year-old marketing executive Siddharth Sharma was trying to cross a road near Ludlow Castle School and the speeding Mercedes hit him.
A case under IPC sections 304 A (causing death by rash or negligent act), 279 (driving on a public way so rashly or negligently as to endanger human life) and 337 (causing hurt by an act which endangers human life) was lodged.
The boy was apprehended the next day and was released on bail as per legal provisions.
"During the later stage of the investigation, the charge of culpable homicide not amounting to murder, which is cognizable and non-bailable in nature, was slapped and today the boy was apprehended under this charge," DCP (North) Madhur Verma said.
-with PTI inputs