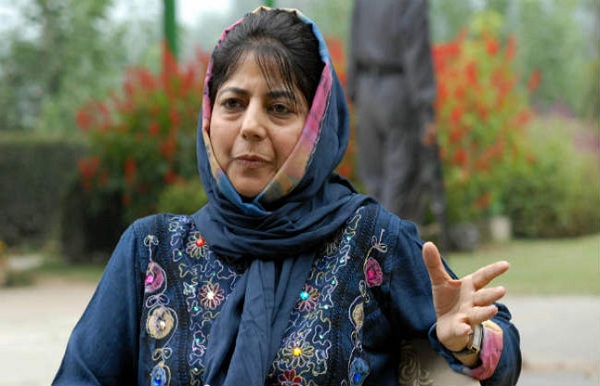 People's Democratic Party's (PDP) president Mehbooba Mufti will take over as the first woman Muslim Chief Minister of Jammu and Kashmir today with her party unlikely to make changes in its earlier team.
However, the alliance partner Bharatita Janata Party (BJP) may drop one of its independent members from the council of ministers that will take oath along with Mufti
Governor NN Vohra will administer oath of office and secrecy to 56-year-old Mehbooba, who will be the 13th Chief Minister of the state, along with 16 Cabinet Ministers and eight Minister of States. Two of them from BJP will be given independent charge.
Sources in the PDP said that there won't be any change in the team that was sworn-in along with Mufti Mohammed Sayeed on March one last year but BJP sources indicated that one of its MLA's from Udhampur, who was Minister of State in earlier cabinet, Pawan Kumar Gupta, may be dropped from the new team and replaced by a new face.
BJP MLAs had asked its party leadership to give chance to its own MLAs rather than bringing independent members in the ministerial team. Gupta was Minister of State for Finance and Information and Technology in Sayeed's cabinet.
There is likely to be no change in the portfolios worked out by the two parties last year. Under the agreement, portfolios like Home, Finance, Revenue, Law and Justice and Education will remain with the PDP while BJP will keep Health, Urban Development, Power, Commerce and Industries and Public Health Engineering.
Mehbooba arrived in Jammu this afternoon along with her family members and is expected to have a meeting with the deputy chief minister-designate Nirmal Singh from the BJP ahead of the swearing-in ceremony.
Mehbooba will become the country's second woman Muslim Chief Minister after Syeda Anwara Taimur who became Assam's CM on 6 December, 1980 and continued in office till 30 June, 1981.
Union Ministers Venkaiah Naidu and Jitdendra Singh will be the special invitees for the oath ceremony which will also be attended by former Chief Ministers Farooq Abdullah and his son Omar Abdullah.
Earlier in the day, Mehbooba telephoned senior Abdullah and requested him to attend the swearing-in ceremony in Jammu.
"I will be attending it," Abdullah conveyed to Mehbooba.
After taking oath, Mehbooba, who is PDP Lok Sabha MP from Anantnag seat, will have six month within which she will have to contest election and win as MLA or MLC. She is likely to contest from Anantnag assembly seat which fell vacant after the death of her father Mufti Mohammed Sayeed on January seven.
-with inputs from PTI.