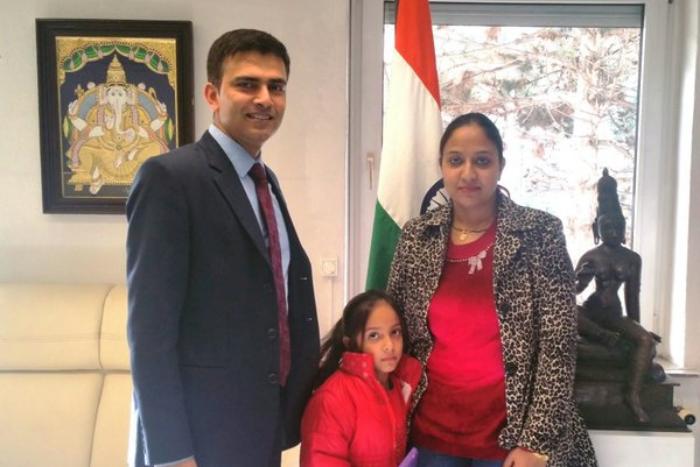 On Thursday, the Ministry of External Affairs secured the safe return of an Indian woman and her eight-year-old daughter who were allegedly unable to fly back to India from Germany.
The woman posted a video on Twitter, pleading the Indian government to rescue her child and her from Germany. Identifying herself as Gurpreet Kaur, the woman says that she belongs to Faridabad and that she has been cheated by her in-laws who have forced her to stay in refugee camps across Germany.
Minister for External Affairs Sushma Swaraj picked up her tweet and sprung into action. In a coordinated effort with the Indian Consulate in Frankfurt, they have been able to rescue Kaur and her daughter.
Gurpreet - Pl give me your phone number. https://t.co/KSPnjUu9uh

- Sushma Swaraj (@SushmaSwaraj) February 2, 2016
Gurpreet - I have got the report from our Embassy in Germany. https://t.co/MUGRa2twS0 @AmbGurjitSingh @eoiberlin

- Sushma Swaraj (@SushmaSwaraj) February 2, 2016
Gurpreet - CG Frankfurt is in touch with you. He has spoken to your father also. We will help you. @AmbGurjitSingh @eoiberlin (2)

- Sushma Swaraj (@SushmaSwaraj) February 2, 2016
We have brought Gurpreet and her 8 year old daughter from the refugee camp to our Consulate in Frankfurt. Pic pic.twitter.com/D1c7B6FidN

- Sushma Swaraj (@SushmaSwaraj) February 3, 2016
Gurpreet and her daughter will reach New Delhi from Frankfurt by flight AI 120 at 9.35 am tommw morning. https://t.co/MUGRa2twS0

- Sushma Swaraj (@SushmaSwaraj) February 3, 2016