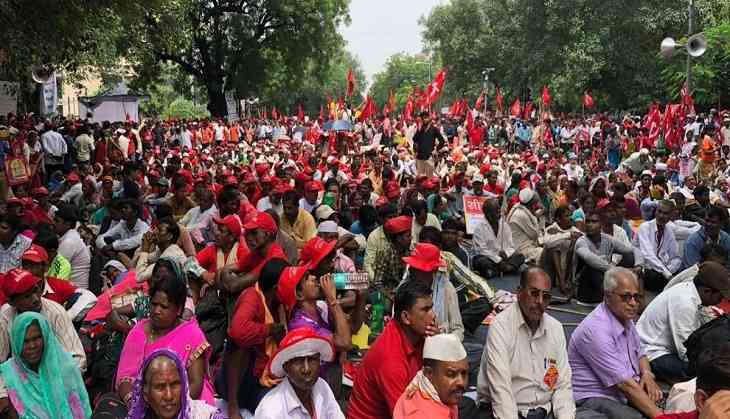 It was September 2 when the farmers and workers from across the country started to come into Delhi and they were staying at Ramlila Maidan. The All India Kisan Sabha (AIKS) was organizing this huge gathering of farmers at the Maidan.
"In all, close to two lakh people will be marching to parliament in the morning," said Vijoo Krishnan, joint secretary of the All India Kisan Sabha (AIKS).
They are holding to a march to parliament. Around 30, 000 people were present inside the Ramlila Maidan. Unfortunately, the huge gathering of farmers has been marred by rain in Delhi. It created difficulties in managing the staying of farmers. Large tents with wooden boards and plastic sheets were used to shield against the water.
Workers and farmers reached from 23 states came into Delhi with demands ranging from an upward revision of minimum wages to remunerative prices for peasants. About 5,000 have travelled from Nasik. Most of them were also part of the Kisan long march from Nasik to Mumbai in March this years. A group of farmers has travelled from Pallaka in Kerala on motorcycles. Ignoring the threat of police, a group from Manipur reached Delhi.
Also read: Delhi: Drunk woman caught inappropriately touching another woman in crowd; case registered