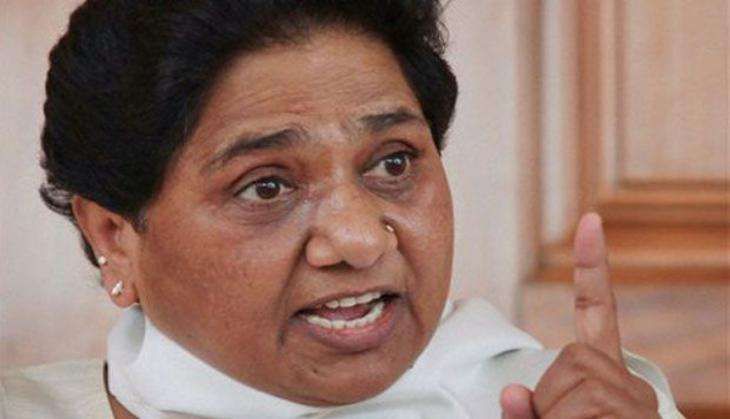 Bahujan Samajwadi Party chief Mayawati will hit the campaign trail today with a massive rally in Agra. The rally is meant to be a show of strength for the party that has seen exodus of key leaders in the past few months.
According to reports, a gathering of 5 lakh is expected to attend the Dalit leader's maiden rally in the run up to the 2017 Assembly Elections. Interestingly, her choice of venue to begin her campaign is the same as chosen by Prime Minister Narendra Modi for the 2014 General Elections.
Mayawati hitting the campaign trail months in advance, a departure from her earlier strategy, shows the nervousness within the party. Key leaders like Swami Prasad Maurya and BSP's national secretary Paramdev were among several other who left the party alleging "auctioning of tickets" and corruption.
In fact, she has also demanded that the Election Commission hold the polls early. Speculations about what could have triggered such a demand has been doing the rounds, ever since she made this demand. It could be either be due to the fear of desertion by other leaders in the run up to the elections or a strategy to capitalize on the Dalit movement in Gujarat.
However, BJP leader Dayashankar's comments equating her with sex worker infused new life to her campaign.The BSP has played up the comment in order to project BJP as an "anti-Dalit" party. Also, the comments came around the same time when a Dalit movement was gathering steam across the country that has been cause of much trouble for the Central government.
The BJP on its part is also watching out her moves. According to an India Today report, the ruling party at the centre will be helped by Rashtriya Swayamsevak Sangh (RSS) in appealing to the Dalit. They are reportedly holding a three day camp in Agra.
In another attempt to reach out the Dalit community, the RSS has announced that its chief Mohan Bhagwat will dine at Dalit footwear industrialist Rajan Singh's house.
Maywati's decision to begin an early campaign seems to be influenced by the current sentiments ruling the Dalit uprising. She has been vocal in raising the Una incidents and other incidents of atrocities against Dalit, in the Parliament.
In the first phase of election rally, which begins today, she would hold one rally a week across Azamgarh, Allahabad and Saharapur. All these places have substantial Dalit and Muslim population.