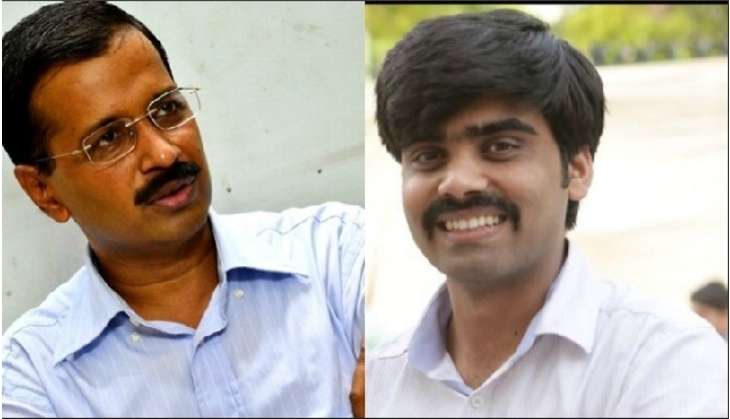 Delhi Chief Minister and Aam Aadmi Party convener Arvind Kejriwal is no stranger to being criticised on social media.
However, when Twitter user Ravi Pokharna (@RaviPokharna) alleged on 20 August that Kejriwal was promoting terror, the AAP reacted aggressively.
Here's a look at the drama that unfolded on Twitter:
Kejriwal had 11.5M followers till few days back now 8.7M! TOI says Twitter suspended 2.4L accnts 4 promoting terror! pic.twitter.com/YdMilnyiTb

— Ravi Pokharna (@RaviPokharna) August 20, 2016
'Kejriwal is a cheat,' says Pokharna
The party slapped a defamation notice on Pokharna for his tweet which has been retweeted over 700 times at last count.
The AAP notice read: "Your Tweet without a doubt is a wrongful attempt to create and propagate a connection between suspension of suspicious Twitter accounts by relevant authorities at Twitter and Twitter account of Aam Aadmi Party National Convener and the followers of the said account... contrary to what you're trying to portray through your mala fide content... the Aam Aadmi Party is very popular and well respected political party...".
Not one to back down, Pokharna took to Twitter on 6 September to announce that he had been slapped with a legal notice. This time around, he held a Twitter poll, asking users if they thought Kejriwal was a "cheat".
Kejriwal has sent me legal notice which mentions he is a world renowned political leader. What does the world think?

— Ravi Pokharna (@RaviPokharna) September 7, 2016
The poll, which polled votes from 843 people, with 94% reportedly agreeing with the option: "He is just a cheat".
On 8 September, Pokharna used the results of the poll to counter the AAP's legal notice. He said:
"You would be content with the fact that no damage of defamation could have been possible because out of the 843 sample size of users who responded to the survey, 94% feel that you (Mr Arvind Kejriwal) are a cheat. Hence, you may not have any reputation to protect! I suspect Hon court may also question your credibility since few months back the defamation laws (which are being used against me today) were contested by you (Mr Kejriwal) in the Supreme Court as being against freedom of expression. Hope this suffice as a formal answer to the legal notice."
@ArvindKejriwal here is my reply to your legal notice & threat of defamation! Know what world actually feels abt U! pic.twitter.com/fq2zf3hhyI

— Ravi Pokharna (@RaviPokharna) September 9, 2016
Interestingly, while the defamation notice was issued on 23 August, Pokharna took almost two weeks to create a poll in response.
In the meanwhile, he tweeted against Kejriwal, even calling the Delhi chief minister a "frustrated man".
What good a frustrated man can do for a city!! Delhi hard luck!!! @ArvindKejriwal chill!!! pic.twitter.com/oSE1dEiXUK

— Ravi Pokharna (@RaviPokharna) September 4, 2016
Who is Ravi Pokharna?
Pokharna, clearly, is no fan of Kejriwal or his party. However, a quick background check on him reveals a lot more than the fact that he works for the Rambhau Mhalgi Prabodhini - which describes itself as "an academy for the training and orientation of socio-political activists and a centre for overall public-awakening activities and research projects".
Here are a few facts about the Ravi Pokharna:
Ravi Pokharna is an alumnus of FMS, University of Delhi.
He is Project Officer at Rambhau Mhalgi Prabodhini, in New Delhi. The organisation was launched in memory of BJP leader Ramchandra Kashinath Mhalgi (aka Rambhau Mhalgi).
Pokharna is also an author at The NaMo Patrika - an initiative by Bhagat Singh Kranti Sena (BSKS).
The NaMo Patrika is a group of nationalists who have been promoting the 'Narendra Modi for Prime Minister' idea since 2012 - a whole two years before the Lok Sabha Elections. The group advocates what they call 'PM Narendra Modi's vision for India's development'.
On the other hand, the Bhagat Singh Kranti Sena (BSKS) is a New Delhi-based nationalist right-wing organisation which claimed responsibility for the attack on lawyer and former AAP member Prashant Bhushan, after he supported the plebiscite in Jammu and Kashmir in line with UN directive.