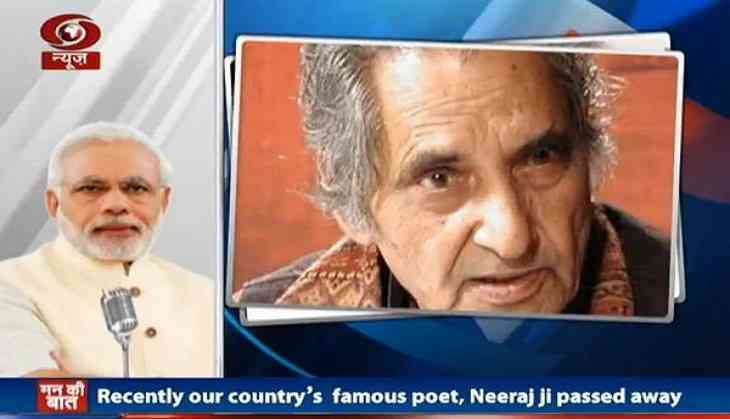 Prime Minister Narendra Modi remembered late poet Gopaldas Saxena 'Neeraj' during the 46th edition of his radio program 'Mann Ki Baat' on Sunday.
The Prime Minister said, "Recently, famous poet Neeraj ji passed away. He always exuded hope, faith, and resolved confidence. We can draw a lot of inspiration from him."
He further recited a few verses from one of the poems of the late poet.
On July 26, the noted poet and lyricist passed away at All India Institute of Medical Sciences (AIIMS) in New Delhi.
The Prime Minister had earlier in a tweet condoled the demise of the poet, saying, "Saddened by the demise of noted poet and lyricist Shri Gopaldas 'Neeraj.' Shri Neeraj's unique style connected him with people from all walks of life, across generations. His works are unforgettable gems, which will live on and inspire many. Condolences to his admirers."
Saddened by the demise of noted poet and lyricist Shri Gopaldas 'Neeraj.'

Shri Neeraj's unique style connected him with people from all walks of life, across generations. His works are unforgettable gems, which will live on and inspire many. Condolences to his admirers.

— Narendra Modi (@narendramodi) July 19, 2018