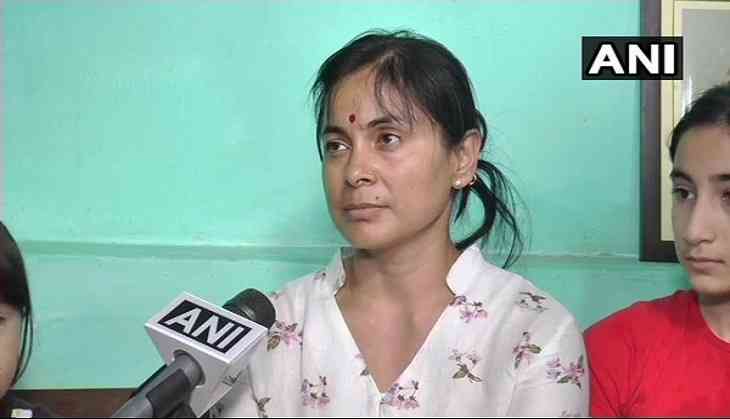 Wife of Lieutenant Colonel Dharamvir Singh has moved to the Manipur High Court claiming that her husband was wrongly detained by armed jawans on July 1 morning and was kept under house arrest till the court ordered his release.
Ranju Singh on July 20 submitted an affidavit with the court on behalf of her husband highlighting possible reasons behind latter's arrest.
Notably, Lt. Col. Singh was serving as officer commanding, 3 CISU at M Sector, Imphal when he was allegedly arrested.
"He was taken away by the officials in front of me. We don't know why he was arrested and where he has been taken. I don't know anybody over here. Nobody was ready to help me, at last, I sought the court's help in this matter. My husband has done nothing, he is innocent," Ranju told ANI.
Fearing that the Army officials will continue to harass her husband and family, Ranju mentioned in the affidavit that Lieutenant Colonel Dharamvir Singh in the year 2016 had complaint about wrongdoings of some officers.
The affidavit accused few army officers of demanding extortion money and carrying out fake encounter of innocent individuals in the north-eastern state of Manipur.
Following the complaint, some senior officers turned vindictive and began to harass Lieutenant Colonel Singh, said the affidavit.
Owing to pressure mounted on Lt. Col. Singh, he, later on, withdrew the complaint on the assurance that action will be taken against the perpetrators.
The affidavit mentions three alleged fake encounters and an extortion case by one unit and one particular team of the CISU.
The affidavit further divulges about the extortion and fake encounter killings of Manipur boys, Phijam Naobi, R.K. Ranel and Th Prem who were picked up from Dimapur in Nagaland and allegedly killed after being tortured.
Their dead bodies were found in Lakhijan area under Bokajan police station in Karbi Anglong district of Assam on March 12, 2010.
It also mentions the custodial killing of PLA leader Gypsy and her friend who were picked up from a rented accommodation near SM College in Dimapur.
Lt. Col. Singh's statement mentions, "On 18 August, PLA leader G Jiteshwar Sharma alias Gypsy along with his innocent friend was picked up from the rented room near SM College, Dimapur, by the same team. Bodies of both were buried behind the unit Mess only. Few unit persons know the exact location where the bodies were buried."
In his last text to the family, Gypsy wrote that "I have been arrested by suspected Assam Rifles and NSCN-IM."
Gypsy's family also filed a writ petition in the Imphal bench of the Gauhati High Court back in 2011, after he was untraceable.
"We lodged an FIR in Dimapur seven years back. We searched all the leads but nothing was revealed," said his brother, G Satyabrata Sharma.
Sharma said they even received a response from the Army, para-military and police that there was no report of his arrest in 2011.
The document further details the way Thangjam Satish and another unidentified person were killed in Masimpur jungle by the same set of officers.
The affidavit also accused the same team of officers of executing the kidnapping of a woman and her child from Dimapur, who were later set free after claiming a ransom of Rs 1 crore from her family.
The affidavit appealed to the SIT to summon all Army personnel involved in the case and question them.
On the directions of the Gauhati High Court in 2017 a Special Investigation Team (SIT) by Dimapur Police was instructed to summon all Army personnel involved in the case and question them.
The affidavit presses that till now not a single army personnel has been summoned by the SIT and "the truth is not going to come out as several senior officers were involved in the incident."
(ANI)