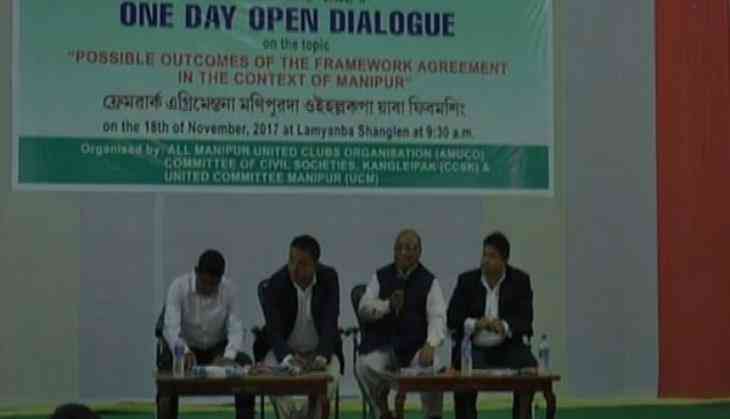 Manipur populace resolves to safeguard territorial integrity
In an open discussion held on Saturday about the Framework Agreement signed between the Government of India and the National Socialist Council of Nagaland (Isak-Muivah) (NSCN-IM), the citizens of Manipur reiterated its stand on safeguarding the territorial integrity of the state, and adopted four resolutions towards the same.
Resolutions declared at the one-day open dialogue on the topic, 'Possible outcomes of the Framework Agreement in the context of Manipur,' stated that the Framework Agreement should in no way disturb the territorial boundary of the state as well as the unity of the people. Secondly, the agreement should not take up anything that might disintegrate the people of the state even if the territorial boundary is kept intact, and the government of India should not make any decision without the consent of the government of Manipur and the people of the state.
The meeting also resolved to oppose any form of demand like the Pan-Naga cultural, provincial, territorial council or financial autonomy or ethnic administrative division in recognition to the demand of the NSCN-IM.
Another resolution adopted is to make the state ratification compulsory if the Parliament of India wants to invoke Article 3 of the Constitution of India, and to include a provision in Article 371 C to ensure the historical, cultural, political and social identity are protected.
The public meet was held at Lamyanba Shanglen, and was jointly organized by various civil society organization of the state including AMUCO, UCM, CCSK, etc.
The Framework Agreement was signed on August 3, 2015, in efforts to solve the decades-old Naga sovereignty issue.
-ANI