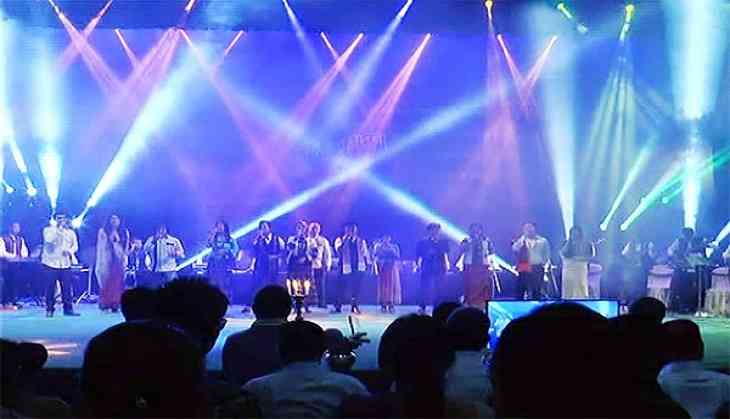 A music festival called 'Kaongamdraba Eshei' was held in Imphal recently as a tribute to legendary singers of Manipur.
The two-day long music fest brought more than 50 music artistes of the state including the Manipuri musicologist Laishram Birendrakumar Singh, sharing one platform with the common cause.
The music event was graced by Chief Minister N Biren Singh at Palace compound in Imphal and aimed at bringing both the veterans and young artistes to celebrate the rich music.
Sagolsem Tejendra Singh, President of All Manipur Matam Eshei Kanglup, said, "This festival is aimed at bringing both the veteran singers and today's artistes under one platform in order to bring out the very essence of music in various genres. It also aims to give the utmost benefits to the society through music."
The musical program was organized by the Matam Eshei Kanglup in collaboration with the Department of Art and Culture, Government of Manipur to bring to light the important role of music in the society.
A rare piece of notes was performed by Laishram Birendrasingh Kumar, a 97-year-old musicologist of the state.
Addressing the gathering, Chief Minister N Biren Singh announced that his government was planning to bring a scheme to provide financial help for the welfare of the artists, musicians etc. of the state.
He said, "Music and songs play an important role in our life and brings out the nationalism, like for example, our national song and anthem, Vande Mataram and Jana Gana Mana. Therefore, music plays an important role to create nationalist spirit and nation building in our society."
The fest creates a platform for the music personalities of both veterans and amateurs to embrace and celebrate the essence of music.
-ANI