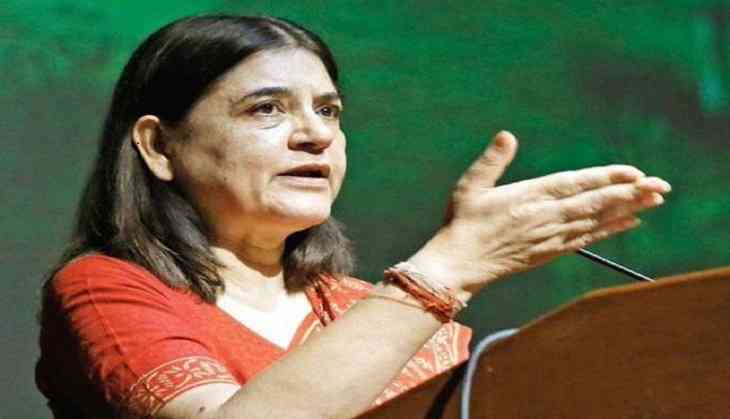 Union Minister and BJP leader Maneka Gandhi attacked Bahujan Samaj Party chief Mayawati and alleged that the latter charge huge amount for her party ticket. Maneka Gandhi, who is all set to contest from Sultanpur constituency in Uttar Pradesh said that Mayawati takes Rs 15 crore per ticket.
BJP leader alleged Mayawati's family "proudly" admits that the BSP chief accepts diamond or money in lieu of party ticket, according to news ANI.
"Everybody knows that Mayawati sells tickets and even her party men admit it proudly. She has 77 houses. Mayawati's family also admits proudly that she accepts diamond or money. She takes Rs 15 crore per party ticket," Maneka Gandhi said while addressing a rally in Sultanpur.
Maneka Gandhi: Sablog jaante hain ki Mayawati ticket bechti hain, ye to unke party ke log garv se bolte hain, unke 77 ghar hain, unke rehne waale bhi garv se bolte hain hamare Maywati Ji ya to hiro mein leti hain ya to paiso mein leti hain, lekin leti hain 15 cr rupay. (03.04.19) pic.twitter.com/hwKOAPvZh9

— ANI UP (@ANINewsUP) April 4, 2019
Maneka Gandhi in Sultanpur: Koi ticket muft mein nahi diya jaata. Unhone ticket is tarah beche hain, 15 cr mein. Ab main puchti hu bandookdhaari logon se, aapke paas 15 cr dene ke liye kahan se aaye? Ab inhone de diya hai, aur ye kahan se banayenge 15-20 cr, aapke jebon se. (3.4) pic.twitter.com/ZFmon8blxp

— ANI UP (@ANINewsUP) April 4, 2019
Gandhi said Mayawati does not give her party tickets to anyone free of cost. "No ticket is given for free. Every ticket costs Rs 15 crore. I would like to ask the gun-toting people, how did you manage to get 15 crores? Now they have given the money and they will now earn these 15-20 crores from the common people's pockets," Maneka Gandhi said.
Notably, in 2016, two BSP MLAs has accused Mayawati of demanding 'huge amount' for allotting tickets for the 2017 UP Assembly elections, prompting hours after they levelled the allegation party suspended them. The lawmakers -- Palia MLA Romi Sahni and Mallawan MLA Brijesh Verma, later joined the BJP.
Also read: Lok Sabha Elections 2019: Smriti Irani to begin two days visit to Amethi today