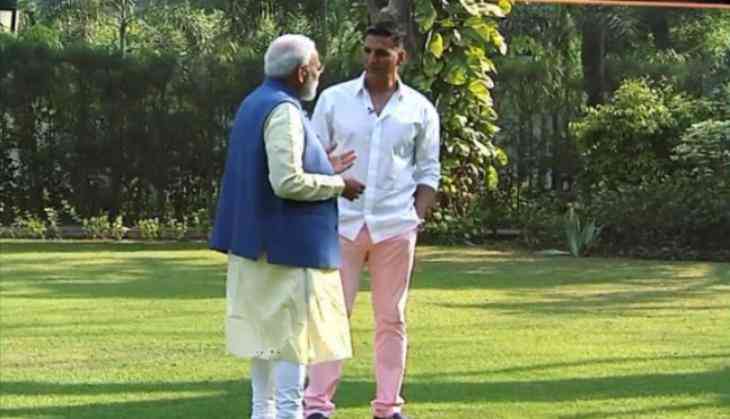 Bollywood actor Akshay Kumar on Wednesday had a non-political chat with Prime Minister Narendra Modi. From asking him about his childhood life to why he sleeps for only 3.5 hours to his friendship with Opposition leaders, Akshay had a heart-to-heart conversation with PM Modi.
Akshay Kumar interacted with PM Narendra Modi at Lok Kalyan Marg. A day before revealing about the interaction with PM Modi, the 51-year-old actor shared a few teasing and tweeted, "While the whole country is talking elections and politics, here's a breather. Privileged to have done this candid and COMPLETELY NON POLITICAL freewheeling conversation with our PM @narendramodi."
When during an interaction with Prime Minister, Akshay Kumar asked him about his friendship with his rival parties leaders,, especially with his biggest critics TMC chief Mamata Banerjee and Congress' Gulab Nabi Azad, PM Modi said, I have friends in the opposition.
"I have friends in the opposition also. I have lunch with them once in a year as well. We are connected like a family which you do not see on the outside. This may harm me in the elections but Mamta didi does select kurta for me and sends it to me once in a year. Bangladeshi PM also sends me Bengali sweets," says Prime Minister Narendra Modi.
#WATCH PM Narendra Modi during interaction with Akshay Kumar, speaks on his friends in opposition parties, especially Ghulam Nabi Azad & Mamata Banerjee pic.twitter.com/8GkqrHpqXv

— ANI (@ANI) April 24, 2019
In an interacting with Akshay Kumar, PM Narendra Modi also opened up if ever thought that one day he will become the Prime Minister. "I never thought I would become the prime minister. If I would have got a good job, then also my mom would have been happy. She would have distributed sweets," said Prime Minister Narendra Modi.
PM Modi also revealed what former US President Barack Obama has had adviced him when the duo leader met in 2015. "You sleep only three-four hours, a body needs at least seven, right," asks Akshay Kumar. In response, PM Modi shared this anecdote: "When President Obama met me for the first time he asked me why do you do this? Now, whenever we meet he asks me have you increased the amount you slept or now?"
Akshay Kumar is a popular Bollywood actor who is known for his versatile acting. He is known for making patriotic films, was last seen in Kesari, a story of the unsung heroes of Battle of Saragarhi.