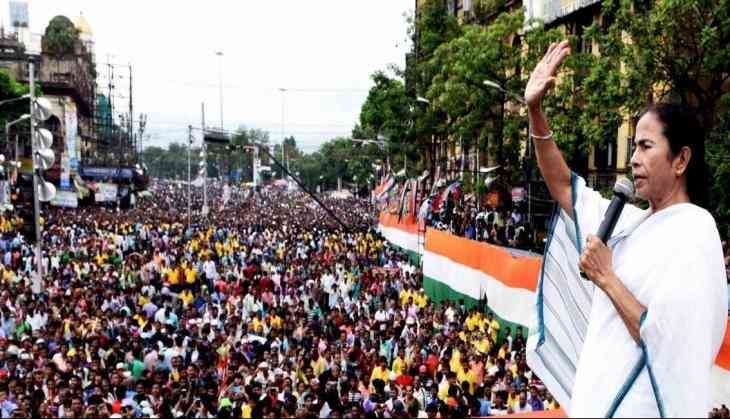 As the Constitutional crisis looms large in West Bengal and CM Mamata Banerjee continues to sit on dharna, the Supreme Court is ready to hear the matter oday and decide upon the dilemma of Commissioner Rajeev Kumar.
The Supreme Court, led by Chief Justice Ranjan Gogoi had said yesterday that if Rajeev Kumar is involved in even destroying the evidence by a margin, he would have to suffer. But, it's up to the CBI to bring the evidence against Commissioner and prove the charges.
Union Minster Ravi Shankar Prasad, who held a press conference yesterday said, "Circumstances indicate that this cop knows a lot and therefore has to be saved."
West Bengal: Actress and TMC's Indrani Halder meets Chief Minister Mamata Banerjee at 'Save the Constitution' dharna in Kolkata. The CM has been on the dharna since the night of February 3. pic.twitter.com/ZTdoUwy50T

— ANI (@ANI) February 5, 2019
While Chief Minister's Office has been functioning on road, CM Mamata Banerjee said, "I did not take to the streets when you touched TMC leaders. But I am angry when they tried to insult the chair of the Kolkata Police Commissioner, he is leading the organisation."
Solicitor General Tushar Mehta, representing the CBI submitted in the apex court, "There are some extraordinary circumstances. The CBI Joint Director was held hostage at CBI office yesterday. We apprehend that electronic evidence might be destroyed."
CJI led bench adviced the aprties involved in the case that "no evidence that Kolkata police is destroying evidence and lay down evidence and if the police commissioner is even remotely trying to destroy evidence, we will come down so heavily on him that he will regret it."
A complete breakdown of Constitution was visible in Bengal and Delhi, when the CRPF was deployed to protect CBI building in Kolkata and Bengal police detaining BI officials.
Also read: Vijay Mallya's extradition cleared by UK govt., another major breakthrough for Modi led BJP