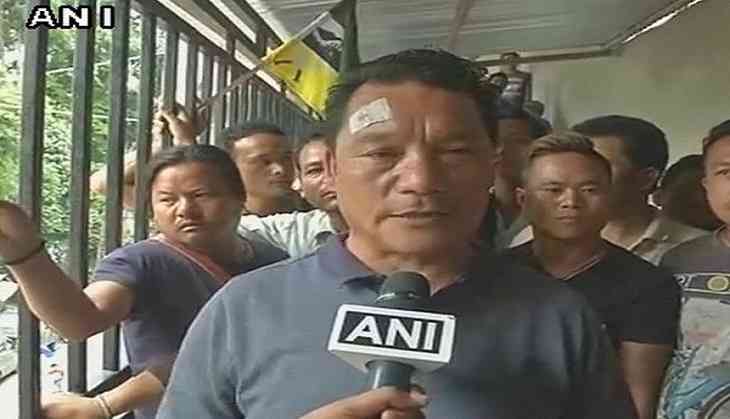 Gorkha Janmukti Morcha (GJM) leader Bimal Gurung on Friday accused the West Bengal Police and the government of Chief Minister Mamata Banerjee of unlawfully attacking his house and the party office.
"Administration has unlawfully attacked in my house and our party office in the instruction of Mamata Banerjee. Such an attack on the house of GTA Executive and in a registered political party office is very much dangerous for democracy," Gurung said.
Gurung alleged that Trinamool Congress (TMC) cadres entered his home with the help of the police and the administration.
"TMC cadres entered in my house with the help of the police and the administration. It is a dangerous political game. The way the TMC has done politics with the CPI-M, the BJP and the Congress, in the same way, they are acting in the hills," he said.
Gurung appealed to all people to be united for this final fight.
"I appeal to everyone to be united for this final fight. Mamata Banerjee cannot suppress our demand," he added.
Yesterday, police recovered a cache of arms, arrows and cash during raids conducted conducted at various GJM locations.
Earlier, as many as six parties including the GJM and the Bharatiya Janata Party (BJP) adopted a resolution for a separate Gorkhaland state.
The TMC did not attend the meeting.
The Ministry of Home Affairs (MHA) is monitoring the situation in Darjeeling.
The BJP has accused the state government of alienating the Gorkha community and creating in them an identity crisis.
"The Gorkhas belong to India, but the state government has alienated them to such an extent that they have lost belief of belonging to this country. It is the identity crisis which has initiated such violence," BJP state vice president Chandra Kumar Bose told ANI.
Bose held the state government responsible for the escalated tension in Darjeeling and said that the ruling regime cannot solve this issue by simply providing some funds and forming the Gorkhaland Territorial Administration (GTA).
West Bengal Chief Minister Mamata Banerjee has branded the GJM protest as 'abhorrent' and appealed to the people of the region to maintain peace. The GJM supporters are also protesting against the alleged imposition of Bengali in the schools of the hills.
-ANI