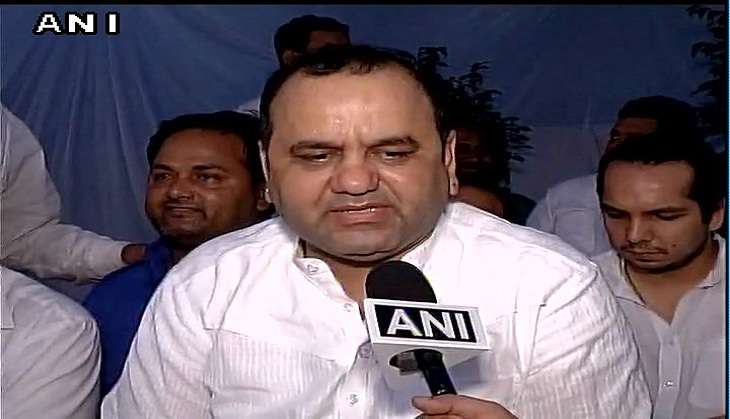 Maheish Girri, a BJP MP, has been on a hunger strike outside Delhi Chief Minister Arvind Kejriwal's residence, protesting allegations levelled against him in the murder of New Delhi Municipal Council (NDMC) official MM Khan. On 20 June, Kejriwal demanded that Maheish Girri be arrested by the 'Modi Police' because of his involvement in MM Khan's death.
Kejriwal took to Twitter, suggesting that Maheish Girri be arrested by the police.
He shud be arrested n interrogated by Modi police in MM Khan murder case. Modi police shielding him https://t.co/CteaT9cWJO

— Arvind Kejriwal (@ArvindKejriwal) June 20, 2016
The BJP lawmaker from East Delhi sat on a hunger strike on Sunday evening outside Kejriwal's residence and said that the Delhi CM has levelled baseless allegations regarding his involvement in the murder case.
"The hunger strike is going to continue. The Delhi Chief Minister has levelled baseless allegations of my involvement in NDMC official MM Khan's murder," he told ANI.
"I will not even move from here till he comes out and I get justice," he added.
Maheish Girri's hunger strike outside CM Kejriwal's residence in Delhi, that began yesterday (early morning visuals) pic.twitter.com/jI5gxUn9Oy

— ANI (@ANI_news) June 20, 2016
On 20 June, BJP leader Subramanian Swamy came out in support of Girri, saying that the allegations that Kejriwal has levelled against the former, are baseless. He further insisted that Lt Governor Najeeb Jung should be dismissed.
I have come here in support of Mahesh Giri because CM Kejriwal has levelled baseless allegations: Subramanian Swamy. pic.twitter.com/YIwf591vMQ

— ANI (@ANI_news) June 20, 2016
In a letter to Lieutenant Governor Najeeb Jung, Kejriwal had accused him of trying to "save" Girri and NDMC vice-chairman Karan Singh Tanwar in Khan's murder.
Girri had asked Kejriwal for a public debate over his allegations.
Khan was shot dead in Jamia Nagar on 16 May, a day before he was scheduled to pass the final order on the lease terms of a hotel which was functioning on a property leased out by the civic body.
--ANI