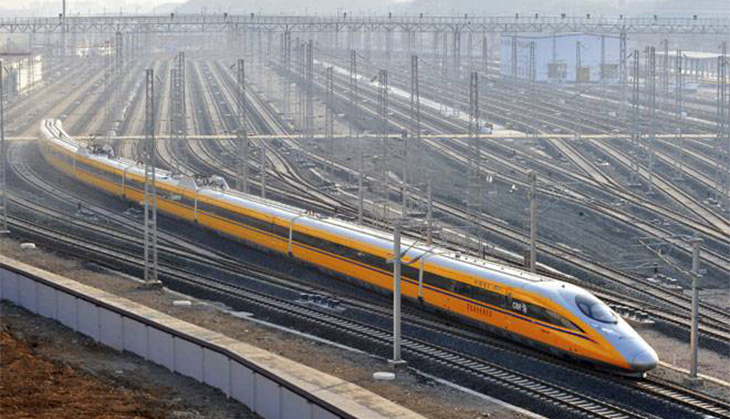 The Maharashtra government has stopped the Rs 98,000 crore bullet train project between Ahmedabad and Mumbai by not allowing the Railways to build the Mumbai station.
According to the original plans, the Mumbai station is meant to be constructed underground at the Bandra-Kurla complex business district, based on a conclusion drawn by Japanese consultants who, after surveying all options and speaking with state authorities, believed that this would be the optimum location for the bullet train terminus in Mumbai.
However, the Maharashtra government has said it plans to build a financial centre at the same place and it makes no difference that the station would be underground, says The Indian Express. The proposed station, they told the Railways, would lead to a loss of Rs 10,000 crore in revenue for the state and since only a small portion of the bullet train corridor falls in Maharashtra, such a large revenue loss cannot be justified.
Two rounds of meetings between railway ministry officials and Maharashtra state officials including the chief secretary and chief minister Devendra Fadnavis have failed to solve the problem and now some officials of the Railways believe the only way to break the logjam would be to speak to Prime Minister Narendra Modi, both because Maharashtra is a BJP-ruled state, and because the bullet train project was a Modi initiative.
The Railways say it needs only 0.9 hectares of land at BKC to construct access to the underground station. However, the Maharashtra government says that because of building bylaws and rules governing commercial establishments, a significant portion of land overground would become inaccessible for the financial centre.
"Once an underground station is built there, we will not be able to build anything on the ground, so the loss of land to us is more than just 0.9 hectares," said UPS Madan, commissioner of the Mumbai Metropolitan Region Development Authority (MMRDA). According to Madan, the Floor Space Index of the BKC is four. "So even if we take that one hectare of land is gone, the FSI would be for four hectares, which is a huge loss. Railways never wrote to us or informed us when the study was going on, or we would have told them then," he said.