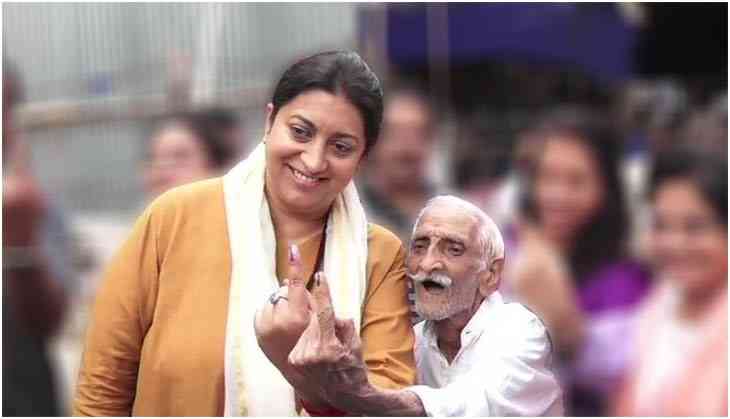 Union Minister Smriti Irani recently arrived in Mumbai to cast her vote in the Maharashtra Assembly elections. After casting her vote on her way back she bumped into a 93-year-old man who comes to exercise his right of voting. Well, this is not the first time such an elderly person is coming out to vote but seeing their spirit makes them stand out from the crowd.
Even Smriti was overwhelmed to see him however, what touched our heart was the way he blocked her way asked her why she shifted to Amethi. The 93-year-old has served our nation and is now a retired army officer. He interacted with the minister and was also excited and happy to cast his vote.
While interacting with media she called Khanna Ji a true 'inspiration' and further added if a 93-year-old man can come all the way to vote then why cant others. She asked the people to come out and vote for the betterment of their state and India. She also added that when BJP took power last time, a new era was born. She congratulated Devendra Fednavis in advance as she believes that he will emerge victoriously.
Union Minister Smriti Irani after casting her vote: Today's hero is Khanna ji (man standing next to her),he had served in Army. He is 93 & came out to vote. It is an inspiration,request people to come out and vote,if at 93 he can vote,who is stopping you?#MaharashtraAssemblyPolls https://t.co/56MkPFUeuk pic.twitter.com/Cy1x8Ioofu

— ANI (@ANI) October 21, 2019

As the polling is underway in both Maharashtra and Haryana today, the results will be out on 42nd October.
Also Read: Haryana Assembly Elections 2019: CM Manohar Lal Khattar rides cycle to cast his vote at Karnal