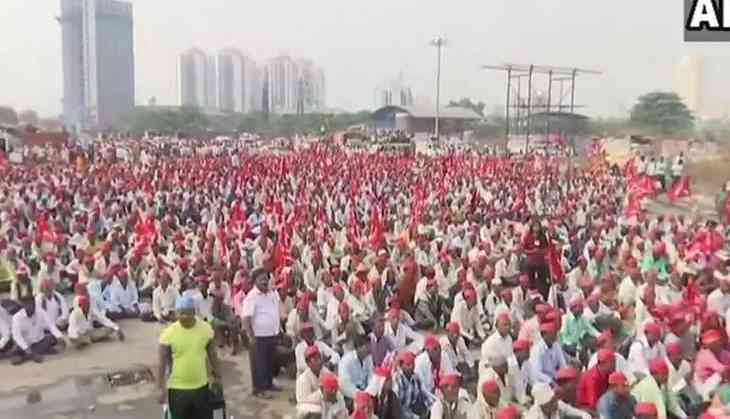 Huge Maharashtra's Famers' march started out from Nashik on Tuesday has finally reached Mumbai border today. Thousands of protesters camped outside the octroi Naka yard near Mulund toll Naka. Near about 30,000 farmers slowly heading towards KJ Somaiya ground in central Mumbai.
The farmers troubled by fake promises by Maharashtra government are expected to stage 'gherao' protest outside Maharashtra assembly in Mumbai on Monday. The traffic advisories are already issued by Mumbai police for maintaining security and peace on Monday as the march is expected to block busy roads in the city.
The farmers wearing a red cap and waving flags and sickles have marched from Nashik to Bhiwandi in the last few days and are about to reach the state assembly and finish their exhaustive 180km march to Mumbai. Among other things, the farmers are demanding a complete waiver of loans, implementation of M.S. Swaminathan Commission recommendations (which ensures fair remuneration), waiver of power bills and transfer of forest lands. Just like the 30,000 farmers Samadhan Gave, 42, is also walking to Mumbai from Nashik.
"My feet are blistered, but I will walk to Vidhan Bhawan and force the government to accept our demands," said Gave, a farmer from Dindori, Nashik, who is part of the march organized by the CPI-M's Akhil Bharatiya Kisan Sabha.
As per reports, 15 farmers, who were participating in the march, had to be rushed to the hospital in Thane today.
On Saturday, the march resulted in heavy traffic jams on roads connecting Thane and Mumbai to Nashik, with several vehicles, including an ambulance, stuck in the snarl for hours, the Times of India reported.
The police warned that citizens should brace for the traffic snarls as they could experience "some inconvenience" along the march route, especially considering that the Board exams for HSC, SSC, ICSE, and ISC are underway, TOI reported.
Last year in June, similar protests gave a rise to intense situation over most parts of the state, forcing the CM Devendra Fadnavis-led government to annouce a conditional Rs 34,000 crore loan waiver, which was not implemented properly, according to farmers.
The similar demands of loan waiver and nearly 50 percent profit over the input cost have been made by farmers across the country, putting the BJP-led central government in a delima.
Also read: Rajasthan: Six men allegedly gang-raped woman; incident uploaded on social media