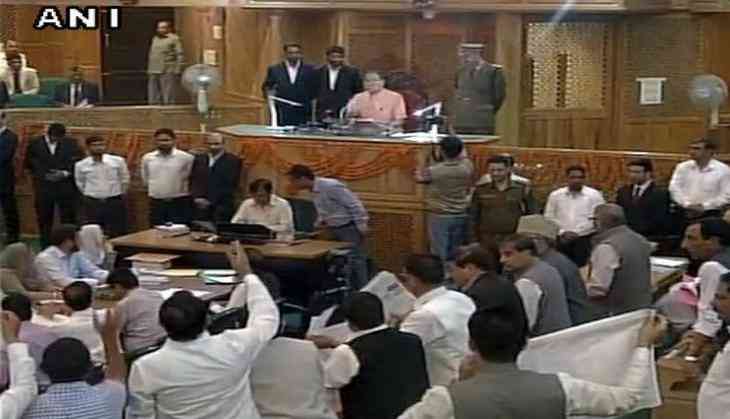 The Maharashtra Assembly on 9 March, 2017 plunged into turmoil after the ruling BJP and Shiv Sena members also joined the Congress-NCP opposition in demanding a loan waiver for farmers, forcing the House to be adjourned for the second day without transacting any business.
The BJP and Shiv Sena legislators also rushed to the well of the house alongwith opposition members and raised slogans seeking an immediate decision on the issue.
Leader of the Opposition, Radhakrishna Vikhe Patil (Congress), raised the issue soon after the House assembled.
Amid uproar, Speaker Haribhau Bagde asked for laying of papers and took up the calling attention notices.
Vikhe Patil said it was not right to rush through the business when the entire House was firm on the demand for loan waiver.
Shiv Sena members raised slogans like "Shiv Sene cha ishara...saat baara kora zalach pahije" (land records should be free of debt) while BJP legislators shouted "Jai Bhawani", "Jai Shivaji" and said farmers should be made debt-free.
Congress and NCP MLAs continued to chant the slogan "Karz mafi zaalich pahije" (farm loan waiver is a must).
The din resulted in three adjournments of the house.
When the House re-assembled, Yogesh Sagar (BJP), who was in the Chair, urged Congress and BJP members who had climbed the Speaker's podium to go back to their seats.
"The ruling party and the opposition are unanimous in their demand for loan waiver. It is up to the group leaders (of various parties) to deliberate on how it should be done.
Loan waiver decision cannot be taken in the House. I appeal to all members to go back to their seats and allow the House to function," he said.
As the uproar continued, the House was adjourned for the day.
Later, speaking to reporters outside the Assembly, senior NCP leader Ajit Pawar said that the Opposition would not allow the House to function till a decision is taken on the loan waiver issue.
"The fact is that the BJP-led state government does not want to provide any loan waiver to farmers. They are politicising the issue. We want the government to announce a loan waiver in this Budget itself," he said.
"If all the parties agree on it, then Chief Minister Devendra Fadnavis should make an announcement. If the Prime Minister can promise a loan waiver in Uttar Pradesh, why can't the same be done in Maharashtra," Pawar asked.
-PTI