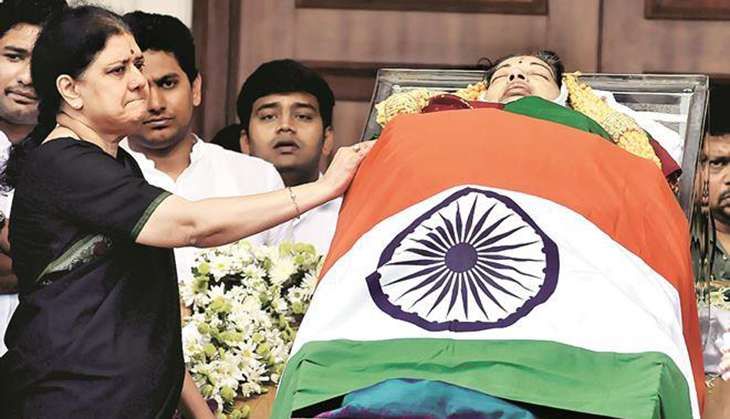 Expressing doubts over the circumstances surrounding J Jayalalithaa's death, the Madras High Court on Thursday expressed its doubts and said the death was sudden and no medical report was submitted of her long illness.
"The media has raised a lot of doubts. Personally, I also have doubts in Jayalalithaa's death," Justice Vaidyalingam of the Madras High Court was quoted by India Today.
According to The Times of India, the Madras HC also asked why it could not order the exhumation of the former Tamil Nadu chief minister's body and issued a notice to Prime Minister Narendra Modi, state and central governments, and others.
The TOI report quoted the bench comprising Justice S Vaidyanathan and Justice Parthiban saying, "We also saw in newspapers that the chief minister was recovering, and that she was eating, signing papers and even conducting meetings. And then suddenly she was dead."
Also Read: AIADMK adopts resolution to work under leadership of 'Chinnamma' Sasikala Natarajan
The Madras High Court is hearing a Public Interest Litigation (PIL) seeking the appointment of a judicial commission to probe into Amma's death.
Jayalalithaa loyalist Shihan Hussaini has alleged that she was killed. He wants her body exhumed and an autopsy conducted.
On 22 September, former Tamil Nadu chief minister Jayalalithaa was rushed to Apollo hospital in Chennai due to dehydration and fever, by Sasikala and her husband M Natarajan. Thereafter, Jayalalithaa was kept in the hospital for 75 days.
Hussaini has called Sasikala's husband M Natarajan as the "mastermind" of Jayalalithaa's "murder".
Meanwhile, the All India Anna Dravida Munnetra Kazhagam (AIADMK) on Thursday passed a resolution to work under the leadership of Sasikala Natarajan. The decision was taken at the party's general body meeting.
"AIADMK adopts resolution to work under the leadership of Chinnamma," the party tweeted out.