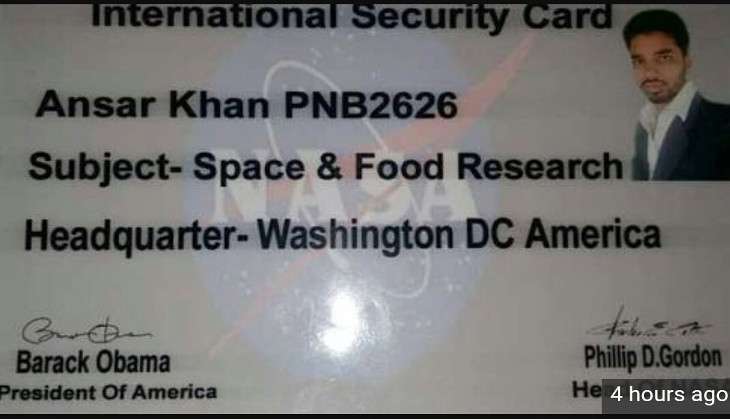 On 24 September, Police arrested a 20-year-old man from Madhya Pradesh for faking a job with the National Aeronautics and Space Administration (NASA).
According to reports, the accused, identified as Ansar Khan, allegedly conned a number of people in his locality by availing loans on the basis of a fake NASA membership card carrying forged signatures of Unites States President, Barack Obama, and the NASA chief.
He allegedly told people that he was appointed to NASA's 'Space and Food' program and was earning an annual salary of Rs 1.85 crore. The case came into light after Khan invited a police official of Kamalpur administration for a felicitation program that was being held in his honour, NDTV reported.
According to the report, the senior police officer, Shashikant Shukla, asked the police to investigate Khan's claim after he noticed his ID card carrying Obama's signature.
"Our SP got suspicious after seeing his (Ansar's) identity card and we started our investigation. The owner of the photo studio told us that Ansar kept on postponing his date of going to the US and did not even possess a passport. He had even taken money from people for going to abroad," NDTV quoted police officer BS Gaure as saying.
The probe revealed that Khan was a Class 12 graduate who did not even have a passport to be able to travel abroad. He had allegedly duped a number of people and had promised them to pay after starting his stint with NASA.
The police has booked and registered a forgery case against Khan.