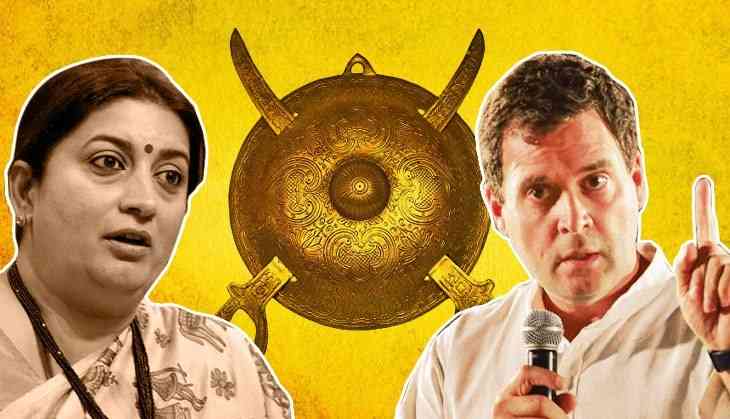 Rahul Gandhi and Smriti Irani
Ahead of the Lok Sabha elections, the BJP has released its first list and has fielded Union Minister Smriti Irani from Rahul Gandhi's bastion Amethi.
In a repeat of events, the BJP while announcing its first list, has pitted Smriti Irani against Rahul Gandhi as it happened in 2014. Although, the results were not favourable for the ruling BJP yet the win margin for Rahul Gandhi had significantly reduced in 2014 Lok Sabha polls in comparison to his earlier win in 2009 elections.
In 2009, Rahul Gandhi received 4,64,195 votes with 71.78% votes being polled for him, and in 2014, it was reduced to 4,08,651 with 46.71% votes being polled for the Gandhi scion. Here, Smriti Irani had grabbed 3,00,748 votes in her debut election and got 34.38% votes being polled for her.
अमेठी से लोकसभा चुनाव लड़ने की ज़िम्मेदारी देने के लिए प्रधानमंत्री @narendramodi जी, अध्यक्ष @AmitShah जी एवं संगठन के सभी वरिष्ठ नेताओं का धन्यवाद करती हूँ। अमेठी से कमल खिलाकर संसद में भाजपा को मज़बूत करना मेरे लिए गर्व की बात होगी।

अमेठी है तैयार, #PhirEkBaarModiSarkar https://t.co/9wBN2TZOq4

— Chowkidar Smriti Z Irani (@smritiirani) March 21, 2019
Soon after Irani's name was announced by J P Nadda in a press brief, she congratulated all the candidates and urged them to work together to ensure the victory for BJP. She also called out Rahul Gandhi and said 'writing is on wall for Congress president.'
Union Textile Minister said, "Rahul Gandhi never found a minute to address the issues of Amethi. I shall be in Amethi soon. A powerful political family has been challenged by a 'chaiwaala'. We have stood with the people who have voted for us in Amethi and we will also stand with the ones who didn't vote for us."
Smriti further added that "Writing is on the wall for Rahul Gandhi...Rahul needs the support of SP and BSP, that itself says a lot about the Congress. It is 'naamdar' versus 'kaamdar' in Amethi."
Also read: BJP First List: Amit Shah to contest from LK Advani's Gandhinagar seat, Congress retorts