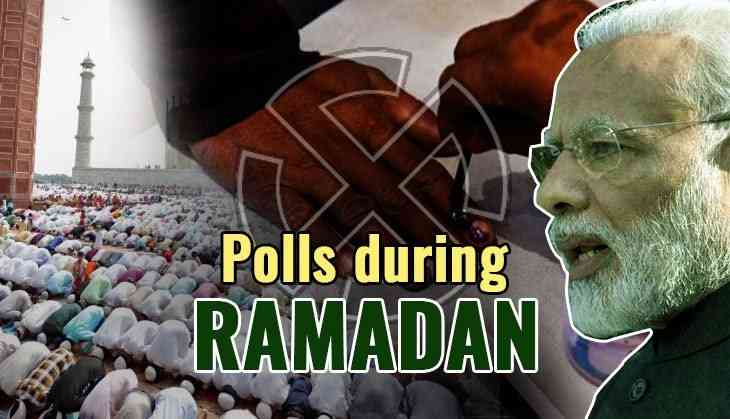 Election Commission of Indian has finally released the official dates for 2019 Lok Sabha polls on Sunday (10th March) during a press conference at 5 pm.
The polling will begin on 11th April and will continue till 19th May across seven phases. The major electoral battle will be held for 543 seats on nearly 10 lakh polling booths across the country and the counting of the votes will be held on 23rd May 2019. However, the Model Code of Conduct has come into the effect as soon as the general assembly elections dates were announced by ECI.
As per the ECI chief Sunil Arora, nearly 90 crore people have been registered as voters and out which there are around 1.5 crore voters who are in the age brackets of 18 and 19. The current Lok Sabha's tenure ends on June 3.
Hours after the election dates were announced, the furore has been raised over the dates of elections that have been fallen during the Ramadan. The political wrangling has begun by the oppositions and giving it to a communal tone.
Earlier on Monday, TMC minister Firhad Hakim raised the issue about the schedule of the election that clashed with the Muslim holy month of Ramadan and alleged that Modi government didn't want that minorities to vote in large numbers.
As per the news agency ANI, 'Election Commission is a constitutional body and we respect them. We don't want to say anything against them. But the seven-phase election will be tough for people in Bihar, Uttar Pradesh and West Bengal. It'll be most difficult for those who will be observing Ramadan at that time,' Hakim said.
This year, Ramadan will begin on 5th May and will conclude on 4th June.
Even on social media, there were miscellaneous reactions have come out from the side of netizens. Some users called it an excuse while some said that it will be a tough thing for Muslims to stand in queue for a vote during Ramadan.
Check out some reactions:
You shd know that people go to work as usual during Ramadan. So stop this crap about participation. Muslims will vote if they want to vote or for that matter those who want to vote no matter which religion will make sure they vote.

— P. Nair (@pn906) March 11, 2019
I don't understand what indian hindus think happens to muslims during Ramadan. This whole "they won't vote cuz they'll fast" situation tells us how disconnected the indian majority is from their own citizens. https://t.co/6l6vmmnIFP

— Khadija Baloch 🇵🇰🇵🇸 (@khadijaali354) March 11, 2019
Ramadan is no exemption or excuse to an individual in performing his duties and responsibilities.. no Practicing Muslim can pass such politically motivated comment.

— Abdul Rahim Kudilil (@rahimkudilil) March 11, 2019
The Muslims will go out and vote against this govt and in the month of Ramadan their prayers shall be answered ..Insha Allah ❤️

— sadia rafi (@sadzgirl) March 11, 2019
The so called Muslim dharmguru objecting to polling during Ramadan must give away their voting rights voluntarily. Isn't other domestic, social or national activity not performed during Ramadan. Pakistan was declared independant on the 27th day of Ramadan. @aajtak @abpnewstv

— Zac. (Jai Hind) (@Ahmed_zedd) March 11, 2019
Best option :
Let they observe Ramadan and Boycott voting
or
Boycott Ramadan and vote in election

— #Stellar Top-notch (@DextrousNinja) March 11, 2019
Also read: Lok Sabha Election 2019 full dates schedule: Voting to begin from April 11, results on May 23; Know all key dates of polls