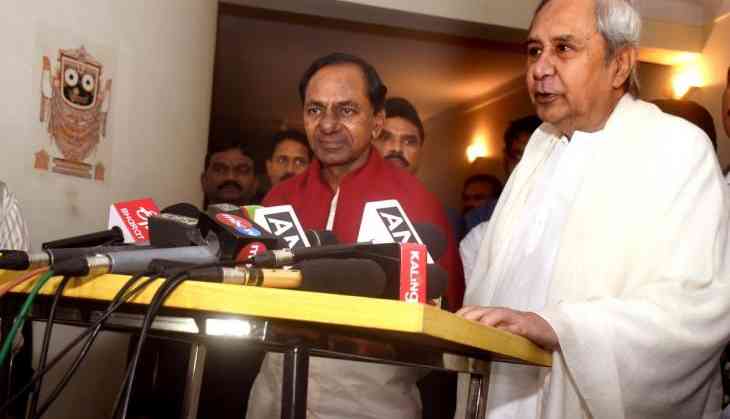 The Opposition parties are striking for an equation to challenge the BJP in the upcoming 2019 polls, but a third front or a Federal Front is also in the making, which can change the number game for the elections.
Telangana CM K Cahndrashekhar Rao has recently paid a visit to the Odisha CM Naveen Patnaik and thereafter, met West Bengal CM Mamata Banerjee, wherein the former who recently won the state elections with a thumping majority, is trying to stitch an alliance where non-BJP and non-Congress party will have a say in making of the government in 2019.
Trinamool Congress leader and parliamentarian Derek O'Brien told the NDTV that, "When we are looking at 2019, don't be surprised. Obviously everyone wants to listen to her, share their thoughts with her. This is but natural," adding that "Mamata Banerjee being one of senior politicians in the country, everybody is talking to her. Don't be surprised."
Hon'ble CM Sri KCR and Hon'ble Odisha CM Sri Naveen Patnaik @Naveen_Odisha speak to media after their meeting in Bhubaneswar.

ఒడిశా సీఎం శ్రీ నవీన్ పట్నాయక్‌తో సీఎం శ్రీ కేసీఆర్ భేటీ... అనంతరం వారు మీడియాతో మాట్లాడారు. pic.twitter.com/ZaVoOTBBMt

— TRS Party (@trspartyonline) December 23, 2018
The recently held assembly elections have given a clear sign that PM Narendra Modi led BJP might lose more than 80 seats in the upcoming Lok Sabha polls and the Congress party will eventually emerge as the fulcrum of the Opposition parties, as after winning in the Hindi heartland, the grand old party will become a magnet for the non-BJP parties.
Mamata Banerjee has said, "Sometimes in politics, situations become such that people have to come together to work... We want a strong front but we are not in a hurry."
2019 is certainly now an open game, as the social media construct of TINA (There is no Alternative) has been shattered with RITA (Rahul is the Alternative)
Also read: Congress allots cabinet ministry in Rajasthan with a touch of 2019 polls; lone ally RLD gets place