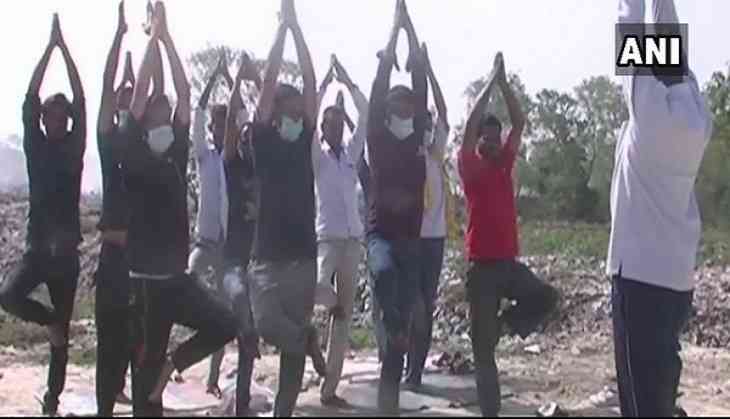 To mark the fourth edition of International Yoga Day in an unusual way, locals from Uttarakhand's Haldwani performed yoga at a trenching ground near Gola Bypass over the demand to shift it from its present location.
One of the locals told ANI that the nearby residents have written to authorities concerned regarding the issue, but no action has been taken yet in this regard.
"90 lakh tonne waste dumped here emits poisonous gases causing harm to residents nearby. Wrote to authorities many times but no action taken yet," said a local.
Meanwhile, another local said, "As Prime Minister Narendra Modi is in Uttarakhand, so, we want to drag his attention to this issue. We demand to remove this illegal trenching ground to be removed soon."
While performing yoga, the locals were wearing masks to protect themselves from the bad breathe and to draw the attention of the government towards their plea.
According to the locals, the trenching ground at present was earlier used to be a clean park.
A few months back, a large number of people staged a demonstration in Haldwani over the issue. Former chief Minister Harish Rawat too joined the protest.
The first International Day of Yoga was observed all over the world on June 21, 2015, where more than 30,000 people, including Prime Minister Narendra Modi, performed yoga asanas at Rajpath in New Delhi.
The idea of International Day of Yoga was first proposed by Prime Minister Modi during his speech at the United Nations General Assembly (UNGA) on 27 September 2014.
(ANI)