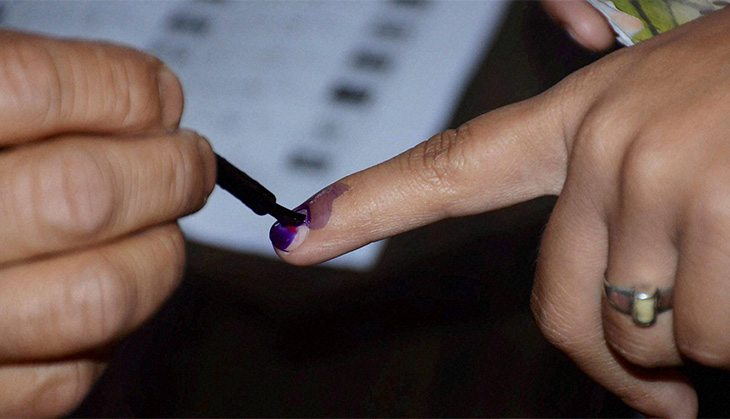 Current Trends:
AIDMK+ is leading in 123 seats Tamil Nadu
TMC+ leading in 211 West Bengal
LDF + leading in 51 Kerala
BJP+ leading in 45 Assam
INC wins 3 Puducherry; NRC wins 2 seats
Counting for Assembly Election 2016 is currently underway. The final results are expected to declared by 3 pm today.
The Election Commission of India (EIC) has commenced the counting of votes at 8 am.
Tamilnadu for AC 134-Aravakurichi & 174-Thanjavur Constituency. "deferred", informs ECI.
Check out the results live with Catch News!
We are following the official Election Commission of India and other government channels for Assembly Election 2016 Results.
Election 2016 Results of Tamil Nadu
Constituencies: 234 (Counting in 232)

AIDMK leading in 123 constituencies

DMK leading in 71 constituencies

INC leading in 8 constituencies

Others leading in 6 constituencies

Check out Tamil Nadu poll results here
Election 2016 Results of West Bengal
Constituencies: 294
TMC leading in 211 constituencies
Congress leading in 41 constituencies
Communist Parties of India (M) leading in 23 constituencies
BJP leading in 7 constituencies
Catch WB Expert Somi Das comments:
Rabindranath Bhattacharya is leading from Singur. Did CPI(M)'s promise of reviving Nano project not appeal to people.
CPI(M)'s Surjya Kanta Mishra trailing in Narayangarh. His 25 year long reign to end?
Mamata Banerjee is leading in Bhabanipur. Congress' Deepa Dasmunshi is a close second. The margine between the two candidates is close to 1500 votes.
Nandigram has already gone to the AITC. TMC candidate Suvendu Adhikary is ahead with a massive lead of 15,000.
TMC's star candidates Debashree Roy and Laxmi Ratan Shukla are also leading from their respective constituencies. Check out WB poll results here.
Election 2016 Results of Assam
Constituencies: 126
BJP+AGP+BPF leading in 45 constituencies
Congress leading in 23 constituencies
AIUDF leading in 13 constituencies
AGP leading in 17 constituencies
Catch Assam Expert Kunal Majumder comments:
Himanta Biswa is now leading by over 20,000 votes.
Atul Bora, AGP working prez t & main force behind BJP-AGP alliance leading by over 15K votes in Bokakhat - Possible Deputy CM
Check out Assam poll election results here!
Election 2016 Results of Kerala
Constituencies: 140LDF+ leading in 51 constituenciesCongress leading in 23 constituenciesIUML leading in 17 constituenciesCPI leading in 17 constituenciesBJP leading in 2 constituenciesAccording to latest information, LDF is taking an early lead in Kerala.

Chief Minister Oommen Chandy and VS Achuthanandan are leading in their respective seats.

Checkout more Kerala Poll results here
Election 2016 Results of Puducherry
Constituencies: 30
Congress wins 3 seats
NRC wins 2 seats
Congress leading in 2 constituencies
NRC leading in 4 constituencies
Others leading in 1 constituencies
Check out the more Puducherry results here.