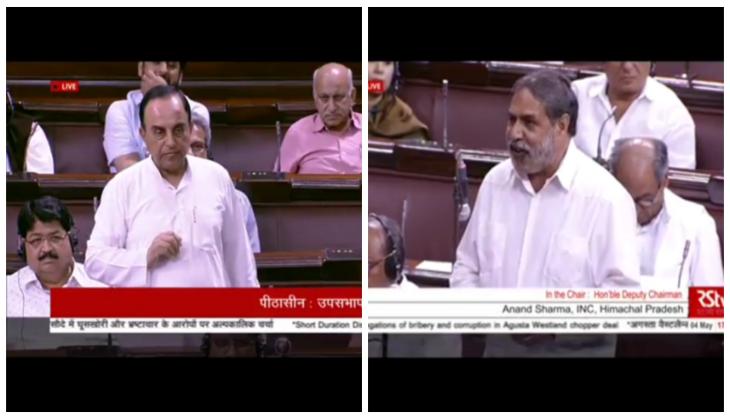 Alleging that the procurement process in the AgustaWestland VVIP chopper deal was violated, Defence Minister Manohar Parrikar today said that the former UPA regime had created 'single-vendor situation' to benefit from the same.
"Italian court has proof that there was 'malafide intent' and there was corruption in matter is brought out in extensive details in judgements of a Milan court. The country wants to know who benefitted from the deal," Parrikar asked to the Congress.
"The Italian court has said there are omissions at many stages and the deal was cancelled by the government after the CAG advice," he said in the Rajya Sabha.
"Why field evaluation trials were conducted outside India. Field trial in India was extremely important because topographical conditions here (in India) differ from that of in the U.S. and the U.K.," he added.
Parrikar further said the UPA regime tried to take the longer route of writing to the embassy and the court etc. instead of taking action against the company.
As soon as Parrikar concluded his speech, leader of opposition in the Rajya Sabha Ghulam Nabi Azad said the Defence Minister's speech is full of allegations.
Countering BJP MP Subramanian Swamy, former defence minister A.K. Antony earlier said take action if you have evidence, but don't threaten and blackmail us.
"Don't try to politicise this issue. You will have to repent later. After the first report in media on alleged scam in helicopter deal, we acted immediately," Antony said.
Antony said the decision to change the height of choppers was taken by then PMO and the NDA government.
"We blacklisted six companies in one go. This sent out a message that we do not tolerate corruption," he said.
Congress leader Ahmed Patel earlier dared the government to investigate the matter and come up with truth.
"If you find an iota of truth in these claims, I will quit politics and my public life," he said.
Swamy earlier said the people, who lowered the specifications of height of choppers were not from the National Democratic Alliance (NDA), adding the Italian High Court's judgement clearly mentions the role of Congress leaders.
"The judgment described 'AP' as the political secretary. Don't we know who that is?" he asked.
Swamy, who was speaking in the Rajya Sabha, said the Central Bureau of Investigation (CBI) has full right to interrogate the 'driving force' behind the VVIP chopper deal as mentioned in accused Michel's letter.
Asking former prime minister Dr. Manmohan Singh to clarify as to whose orders did he follow, Swamy said, "There were businessmen, politicians and bureaucrats involved. Italian records have mentioned full name."
He further sought to know as to why the UPA had the field testing done by other helicopter.
"There was a clear effort to eliminate all other companies so that only Agusta would fit the required criteria," he alleged.
The Agusta deal was signed in 2010 and was cancelled in 2014, after the allegations of corruption surfaced. (ANI)
Here are the main portions from the debate today:
In 1999, the IAF made a suggestion to replace MI8 VVIP helicopters. It was Vajpayee Govt in power that time: AM Singhvi on #AgustaWestland

— Catch - Speed News (@Catch_Live) May 4, 2016
We are damaging legal system.Hence we must cooperate constructively: Singhvi ends his speech in RJ Sabha

— Catch - Speed News (@Catch_Live) May 4, 2016
All alegations made by Kirit Somaiya are baseless and false: Emaar MGF #Agusta

— Catch - Speed News (@Catch_Live) May 4, 2016
We are banana republic. We are relying on the distortions of an Italian Judgement: AM Singhvi on #AgustaWestland

— Catch - Speed News (@Catch_Live) May 4, 2016
The ruling party is foisting charges on people who are not connected to the scam: AM Singhvi on #AgustaScam

— Catch - Speed News (@Catch_Live) May 4, 2016
AM Singhvi from the Congress speaks in Rajya Sabha says the ruling party is insecure.

— Catch - Speed News (@Catch_Live) May 4, 2016
In 1999, the IAF made a suggestion to replace MI8 VVIP helicopters. It was Vajpayee Govt in power that time: AM Singhvi on #AgustaWestland

— Catch - Speed News (@Catch_Live) May 4, 2016
What have you done in the last two years? You are accusing senior people: Ram Gopal Yadav from Samjawadi Party on #AgustaWestland

— Catch - Speed News (@Catch_Live) May 4, 2016
Prove allegations. Stop making false accusations for no reasons: Sharad Yadav on #AgustaWestland

— Catch - Speed News (@Catch_Live) May 4, 2016
Prove allegations. Stop making false accusations for no reasons: Sharad Yadav on #AgustaWestland

— Catch - Speed News (@Catch_Live) May 4, 2016
The government had two years to investigate. We should have discussed this issue after the final report had arrived: Mayawati on #AgustaScam

— Catch - Speed News (@Catch_Live) May 4, 2016
The investigation should be done under the strict supervision of the Supreme Court: Mayawati on #AgustaScam

— Catch - Speed News (@Catch_Live) May 4, 2016
We are getting diverted from serious issues like #drought by talking about #AgustaWestland: Mayawati in Rajya Sabha

— Catch - Speed News (@Catch_Live) May 4, 2016
Both the Congress and the BJP keep playing the blame game and the matter does not move ahead: Dilip Kumar Tirky from BJD speaks in RS

— Catch - Speed News (@Catch_Live) May 4, 2016
What about the admitted facts that the congress cannot deny?: Subramanian Swamy speaks in Rajya Sabha on the #AgustaWestland issue

— Catch - Speed News (@Catch_Live) May 4, 2016
.@Swamy39 begins speaking in Rajya Sabha on #AgustaWestland issue pic.twitter.com/VwfuTn0gR3

— Catch - Speed News (@Catch_Live) May 4, 2016
Last week You expunged my statement when I quoted the letter from Michel. But other members quoted the same letter today: Swamy speak in RS

— Catch - Speed News (@Catch_Live) May 4, 2016
It is true that NDA had initiated the purchase of 8 new helicopters to replace old ones: Subramanian Swamy in RS

— Catch - Speed News (@Catch_Live) May 4, 2016
It Was Done to ensure VVIPs can fly to Siachen or North East: Subramanian Swamy on #VVIPChopperScam

— Catch - Speed News (@Catch_Live) May 4, 2016
The height requirement of 6,000 metres was so that it could avoid shoulder rocket: Subramanian Swamy in RS on #VVIPChopperScam

— Catch - Speed News (@Catch_Live) May 4, 2016
So who lowered it? It was Brijesh Mishra and he was given Padma Vibhushan - why I will find out one day: Subramanian Swamy in Rajya Sabha

— Catch - Speed News (@Catch_Live) May 4, 2016
They didn't use AW101 aircraft which was bought for field trials bt used some other helicopter, which is fraud in its itself: Swamy in RS

— Catch - Speed News (@Catch_Live) May 4, 2016
BJP Akali withdraws members gives Subramaian Swamy extra time to speak in Rajya Sabha

— Catch - Speed News (@Catch_Live) May 4, 2016
Congress member Anand Sharma responds to Subramanian Swamy's allegation, says all that is being said on #Agusta should be authenticated

— Catch - Speed News (@Catch_Live) May 4, 2016
Ruckus in RS over authentication of #AgustaWestland documents, Chairman firm on not letting @Swamy39 speak without authentication.

— Catch - Speed News (@Catch_Live) May 4, 2016
#AgustaPatraka: @Swamy39 says journalists given 6 million Euro for positive reporting on #AgustaWestland. "Who are those journalists"?

— Catch - Speed News (@Catch_Live) May 4, 2016
Documents should be scrutinized legally before putting allegation in such an irresponsible manner: Anand Sharma from INC on #AgustaWestland

— Catch - Speed News (@Catch_Live) May 4, 2016
The decision about VVIP chopper mandatory height being changed from 6000 m to 4500 was taken by NDA govt, 2003: Anand Sharma #AgustaWestland

— Catch - Speed News (@Catch_Live) May 4, 2016
National are not governed by irresponsibility but with maturity: Anand Sharma #AgustaWestland

— Catch - Speed News (@Catch_Live) May 4, 2016
According to NDA's defense procurement policy of NDA, trial runs should be done outside country: Anand Sharma #AgustaWestland

— Catch - Speed News (@Catch_Live) May 4, 2016