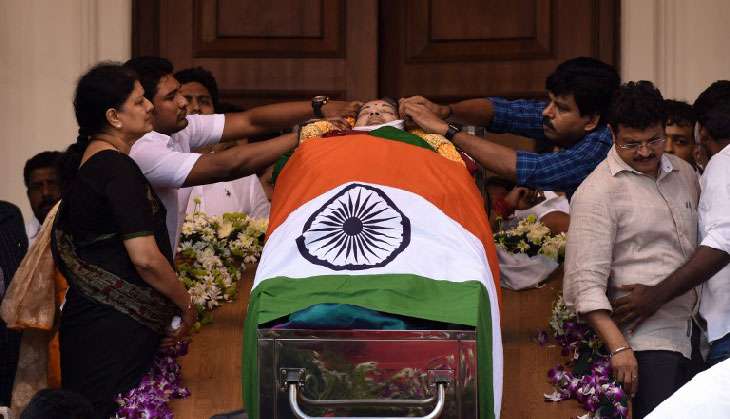 Jayalalithaa health condition critical; police, paramilitary on alert in TN. Photo: AFP Photo/Arun S
J Jayalalithaa, Tamil Nadu Chief Minister and AIADMK party supremo passed away late on 5 December.
The 68-year-old succumbed to a cardiac arrest, merely hours after it was declared that she had been put on life support.
Amma's body was taken to her Poes Garden residence, following which, her body was taken to Rajaji Hall where her supporters flocked in huge numbers to pay their last respects.
Also Read: J Jayalalithaa passes away; Tamil Nadu in a state of mourning
Live updates (6 December)
6:22 pm - Jayalalithaa laid to rest with full state honours
6:08 pm - Casket containing J Jayalalithaa's mortal remains lowered into grave amid thousands of mourners at Marina Beach
5:30 pm - Funeral procession reaches Marina Beach, where Amma's final rites are to be performed.
4:30 - J Jayalalithaa's funeral procession makes its way from amid thousands of mourning supporters to Marina Beach.
4:18 - Thousands throng to Marina Beach, where Amma's final rites are to be carried out. Her mortal remains are being transferred from Rajaji Hall to Marina Beach, where her funeral awaits.
4:15 - Honourable President Pranab Mukherjee arrives at Rajaji hall to pay his tribute.
3:42 - Congress VP Rahul Gandhi reaches Chennai to pay his last respects.
3:00 pm - DMK leader MK Stalin reaches Rajaji Hall in Chennai to pay his last respects to Amma
2:50 pm - PM Modi,accompanied by Venkaiah Naidu,leaves Rajaji Hall after paying his tributes.
2:30 pm - Former PM Manmohan Singh reaches Rajaji Hall in Chennai to pay his last respects to the deceased Jayalalithaa
11:00am - PM Narendra Modi arrives in Chennai to pay his tributes.
10:55am - IAF plane carrying President Pranab Mukherjee to Chennai returns to Delhi after facing a technical snag.
10:30am -Uttarakhand, Karnataka and Bihar declare one-day state mourning as a mark of respect.
10:00am - Tamil Nadu government makes a slew of announcements regarding her passing. Jayalalithaa to be accorded state funeral. Flags will be flown at half-mast. No ceremonial functions will be organised.
10:00am -Central government declares one-day mourning.
9:55am - Kerala government declares holiday for all government offices and educational institutions in the state.
9:45am - 6 December to be a public holiday, marking the end of the powerful political era of J Jayalalithaa.
9:35am - School and colleges in Tamil Nadu to remain closed for 3 days as a mark of respect and 7-day state mourning to be observed.
9:00am - Jayalalithaa's funeral to be held reportedly at 4:30pm at Marina beach.
- Jayalalithaa's body brought to Rajaji hall for the public to pay homage for one last time.
- O Panneerselvam declared J Jayalalithaa's successor, scheduled to take oath as Tamil Nadu's new Chief Minister.
- Prime Minister Narendra Modi expresses grief on Twitter.
- AIIMS doctors to review Jayalalithaa's condition, reports NDTV.
- Union Minister Venkaiah Naidu leaves Apollo hospital. AIADMK MLAs meeting underway, to take stock of the situation and the path forward.
-AIADMK party flag restored to flying at full mast.
- Venkaiah Naidu arrives at Apollo Hospital.
-Sangita Reddy, Executive Director of Apollo Group says that Jayalalithaa continues to be on life support.
- Apollo Hospitals rubbishes local media claims of Jayalalithaa's demise.
- AIADMK party flag flying at half mast at the party headquarters, reports ANI.
- Chaos breaks out outside Apollo Hospital premises as AIADMK supporters attempt to break barricades.
- Our team of expert doctors continue to monitor & treat Honourable CM. However her condition remains critical: Apollo Hospital to ANI
- 75% of police forces directed to be deployed on the roads, reports CNN-IBN.
- Tamil Nadu Governor C Vidyasagar Rao reaches Apollo hospital. To be briefed shortly by team of doctors.
-AIADMK MLAs to meet at 6 pm as Jayalalithaa's condition is described "very grave": AIADMK official, reports NDTV.
-Despite Jayalalithaa's progress, her underlying health conditions inevitably meant risk of further problems remained: Dr Richard Beale, reports PTI.
-Despite our best efforts, our beloved CM remains in a grave situation: Sangita Reddy, Exec Director Apollo Group, reports ANI.
-Top cops in Apollo Hospital; extra barricading around the hospital; more police deployed
-The US Consulate General in Chennai temporarily suspends appointments for routine services to US citizens and visa applicants after Tamil Nadu CM J Jayalalithaa suffered a cardiac arrest, reports Times of India.
"Even gatherings intended to be peaceful can turn confrontational and escalate into violence". You should avoid areas off demonstrations and exercise caution in the vicinity of any large gatherings, protests, or demonstrations," it said.
-Apollo Hospital Spokesperson says chief minister jayalalithaa remains very critical and is on ECMO and other life support systems, being closely observed.
-The centre dispatches a team of AIIMS specialists to Chennai's Apollo Hospital where Chief Minister Jayalalithaa is under treatment, reports PTI.
-There is no transparency, people want to know whether Jayalalithaa is alive or not. PM must intervene and take care of it-Expelled AIADMK MP Sasikala Pushpa-Union Minister Venkaiah Naidu to visit Chennai today to take stock of Jayalalithaa's health.
-"Did not see Jayalalithaa but was informed at the enquiry that she was undergoing treatment and was stable," says Thirunavukkarasar, TN Congress chief.
-Minister of State, Home Affairs of India says forces will be put on standby only if Tamil Nadu requires help. "Can't intervene on our own," he said.
-High security ordered in Coimbatore after Jayalalithaa's health deteriorated
-Security tightened at CM's residence at Poes Garden, one of the busiest commercial localities in the city of Chennai.
-Section 144 imposed at Nellore district border areas.
-Security tightened near Kerala-Tamil Nadu border. All border police station on high alert
-AIADMK member, Nelagandan, from Cuddalore district (Gandhi Nagar) died on 4 December after receiving news of Jayalalithaa's deteriorating health.
-Dr Richard Beale flown to Chennai from London .
-Union Minister Pon Radhakrishnan and BJP Rajya Sabha MP La Ganesan reach Apollo hospital in Chennai to discuss Jayalalithaa's health.
-AIADMK lawmakers summoned to meet at party headquarters in Chennai at 11 am
-Viswanathan Anand appeals to citizens not to spread rumours about Tamil Nadu chief minister Jayalalithaa's health. He tweeted, "#Jayalalithaa praying for a recovery. Please be responsible & dont spread rumours."
-AIADMK lawmakers summoned to meet at party headquarters in Chennai at 11 am.
-Karnataka suspends bus service to Tamil Nadu.
-Traffic police block roads leading to Apollo hospital (Greams Road), where Jayalalithaa is admitted, to avoid traffic congestion.
-Doctor from All India Institutes of Medical Sciences (AIIMS), Delhi, arrive in Chennai to assist in Jayalalithaa's treatment.
-Union Health Minister JP Nadda spoke to the Apollo Hospital Chairman and inquired into the health of Tamil Nadu Chief Minister.
-Union Home Minister Rajnath Singh spoke to state Governor C Vidyasagar Rao to take stock of the situation.
-President Pranab Mukherjee tweeted, "Distressed to hear about CM Jayalalithaa suffering a cardiac arrest, my prayers for her speedy recovery #PresidentMukherjee"
-Jayalalithaa had a heart surgery
The Chief Minister was admitted to Apollo Hospital on 22 September after she complained of fever and dehydration. She has been kept under the close observation of a specialist from London, besides a three-member team of doctors from AIIMS.
On 13 November, in an address to her party workers, Jayalalithaa said she had taken "rebirth" and she was waiting to resume her duties after her complete recovery.
The All India Anna Dravida Munnetra Kazhagam (AIADMK) on 19 November tweeted Jayalalithaa was shifted from the ICU to the normal ward in the hospital.
On 17 November, AIADMK spokesperson C. Ponnaiyan said that "Amma", as she is popularly referred to by her party cadre, was healthy and absolutely fit to attend to all political and government activities.
--ANI