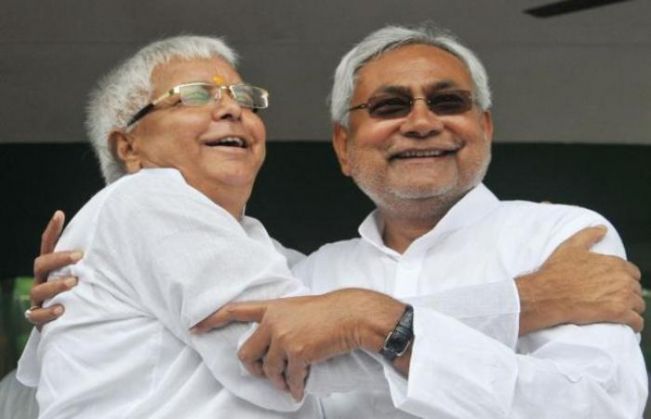 The grand alliance of Congress, JD(U) and RJD is holding the 'Swabhiman' rally at Gandhi Maidan in Patna, Bihar. The parties have come together to challenge the NDA in the forthcoming assembly elections.
Here are the updates:
Thank you for being with us.
3:45 pm: Swabhiman rally at the Gandhi Maidan of Patna, Bihar ends with a thank you address by Bihar Congress President Ashok Choudhary.
3:43 pm: Lalu Yadav says BJP is 'Bharat Jalao Party'.
3:40 pm: Yadav logon ko bewakoof samajhta hai? Yadavon ko jab bhains nahi patak saki toh ye Narendra Modi patak dega?
3:38 pm: We don't want smart city, we want smart villages, says Lalu.
3:37 pm: Lalu: Modi ji asks that one who goes to Jail, what does he learn? I ask what has Amit Shah learnt.
3:32 pm: Lalu Yadav: All the poor belonging to high caste must support us.
3:29 pm: Sushil Modi says that Lalu Yadav brought jungle raj to Bihar. He is targeting the 'yaduvanshis', says Lalu.
3:26 pm: "Ramdev was protesting against black money in ramleela ground of Delhi and when police came he ran away wearing ladies clothes."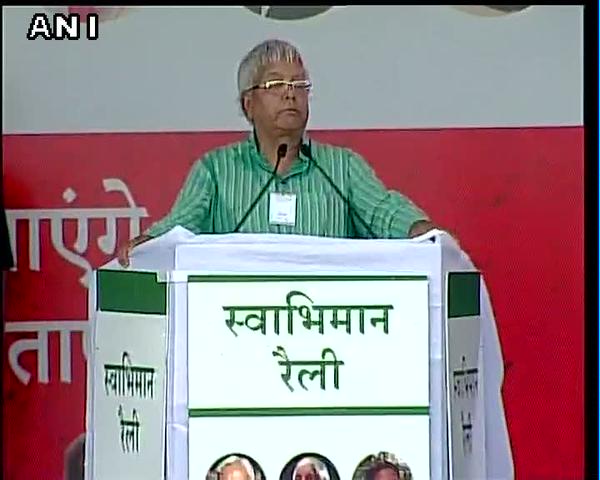 3:23 pm: "Jab do pichde parivar ke bete sath aa gaye to ye kehte hain ki Jungleraj aa gaya."
3:20 pm: Yadav: "Modi and BJP will try to make Hindu and Muslim fight. I know their design."
3:19 pm: "Hum dekh rahe hain Modi ji ke andar bohot chidchidahat agaya hai," says Lalu Yadav.
3:13 pm: RJD supremo and former Bihar Chief Minister Lalu Prasad Yadav addresses the rally.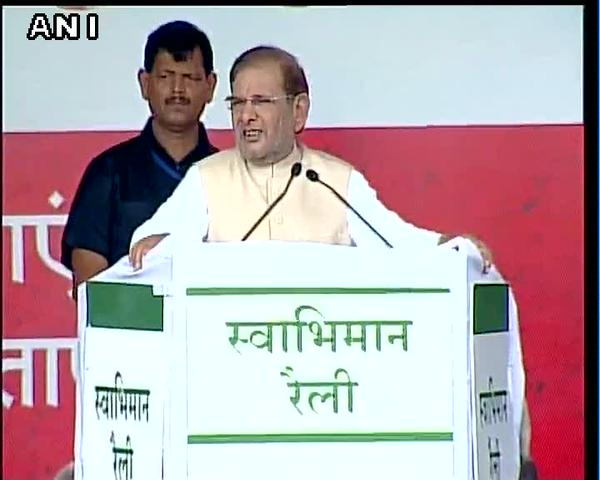 3:11 pm: "Ye ladaayi sirf Bihar ki nahin, poore desh ki hai," says Yadav.
3:05 pm: Sharad Yadav: I want to ask about the Babri Masjid demolition. India never experience violence at such extent before like what happened after the 'Rath Yatra'.
3:01 pm: President of JD(U) Sharad Yadav addresses the rally.
2:56 pm: BJP will try to divide people on the basis of their religion, says Kumar.
2:54 pm: We do as promised, not like them who make promises and then call it a 'Jumla'.
2:49 pm: Police in Delhi is controlled by Modi ji; there is less crime in Bihar as compared to Delhi.
2:46 pm: "Pehle waale PM kum bolte the, aadat thi unki kum bolne ki. Ye aaye hain jo bolte hi rehte hai, kissi ki sunte nahi": Nitish Kumar
2:44 pm: I am the Chief Minister of Bihar and Lalu ji has never requested me to release any criminal. It is wrong to mention him and say that 'jungle raj' is coming.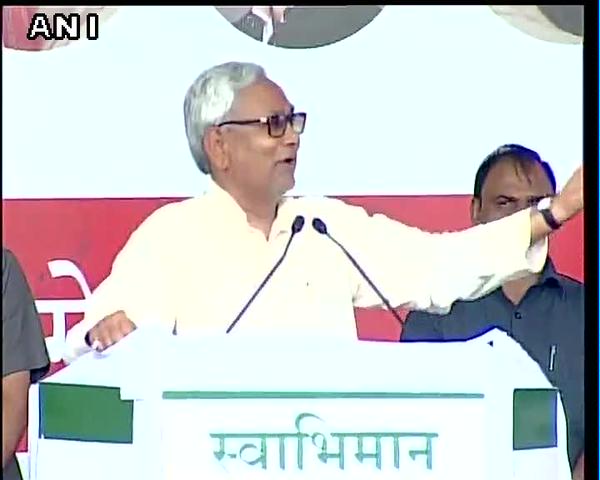 2:39 pm: We were born in the family of freedom fighters and the one whose ancestors have no contribution to the freedom movement call our DNA faulty.
2:36 pm: Out of the 17.4 crore 'Jan Dhan' bank accounts, more than half are inactive.
2:33 pm: PM has said that my DNA is faulty. This is the land of Buddha, Guru Gobind Singh, Chanakya and it's DNA is faulty?
2:32 pm: "Maana ki itna paisa ek sath lana mushkil hai, lekin bohni to kar dete. Ab aap par kaun vishwas karega?", Kumar.
2:29 pm: They were talking about bringing back the black money within 100 days and not 15 months have passed but nothing happened.
2:28 pm: When we were leaving for the rally today, PM was doing his 'Mann ki Baat'.
2:24 pm: Finally Narendra Modi had to take back the land bill proposal. Our party has been against the land bill since the very beginning, says Nitish Kumar.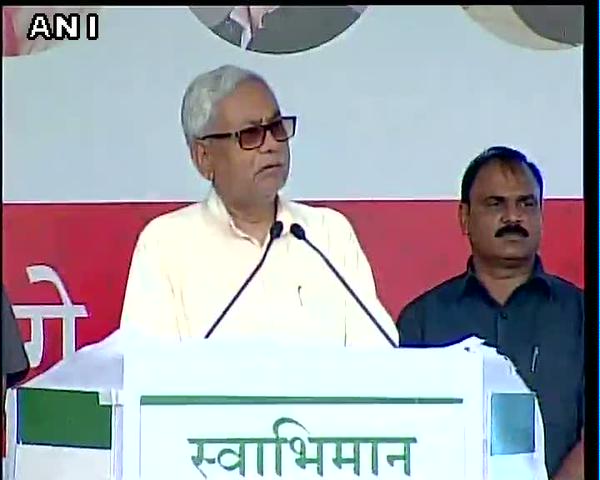 2:21 pm: Bihar Chief Minister Nitish Kumar starts addressing the rally.
2:16 pm:
We all have come together to challenge the false promises and communal politics of BJP. We believe in secular values.
2:12 pm: Earlier, Modi used to give strong speeches against Pakistan but now what are they doing when there are so many incidents of ceasefire violation on the border, says Sonia.
2:10 pm: Gandhi: this is an anti-farmers government which wants to snatch the land from the farmers and distribute it to some people.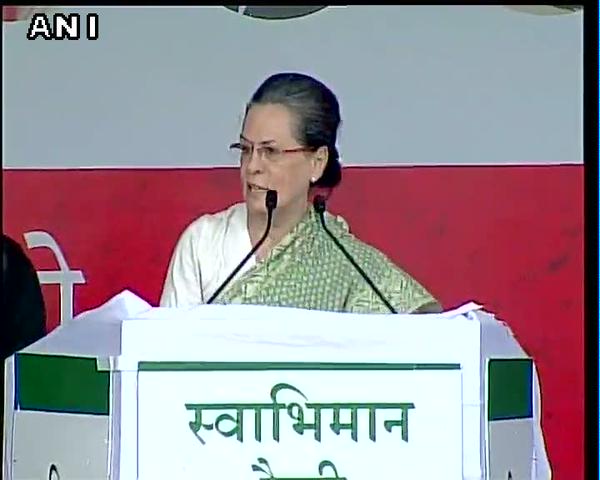 2:08 pm: Modi government has finished 1/4th of its tenure but they have done nothing instead of 'show-off'.
2:05 pm: Some people like to insult the culture of Bihar by calling the state 'Bimaru' and questioning their DNA: Sonia Gandhi
2:02 pm: Sonia Gandhi begins addressing the people.
1:56 pm: Shivpal Yadav of SP at the rally: "Modi's magic has failed. Magic doesn't work for too long."
1:47 pm: Jitan Ram Manjhi: There are no Dalits present in the rally.
1:40 pm: BJP has put up posters in the state saying 'Kal tak jo jani dushman the, aaj satta me yaad hain'.
1:37 pm: Out of the total 243 seats in the state, JD(U), RJD, Congress and SP will be fighting on 100, 98, 40 and 5 seats respectively.
1:36 pm: The DNA samples are being collected as a protest against Narendra Modi's comment on Nitish Kumar saying there was a fault in his DNA.
1:35 pm: Various stalls have been placed at the venue to collect DNA samples of people, which will be later sent to PM Narendra Modi.
1:33 pm: Congress Vice-President Rahul Gandhi did not reach for the rally.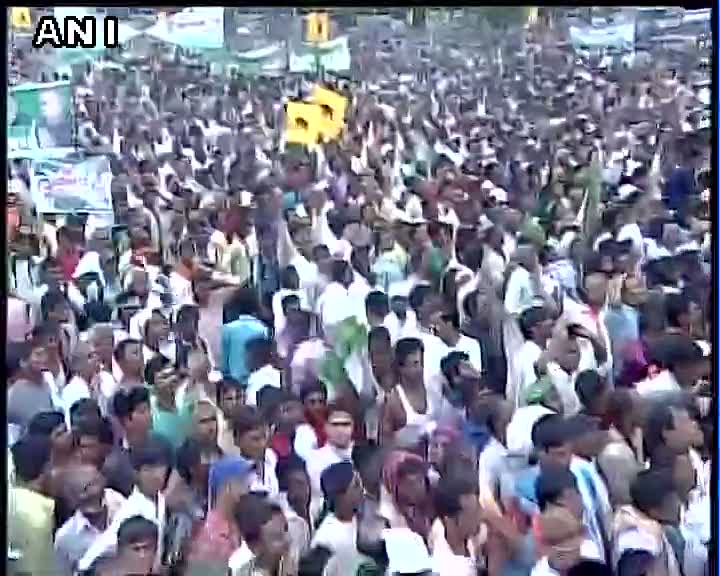 1:27 pm: Rabri Devi: Modi is talking about 'Jungle Raj' in Bihar but what about Jharkhand?
1:26 pm: The election result in Bihar will be the similar to that of Delhi, said Rabri Devi.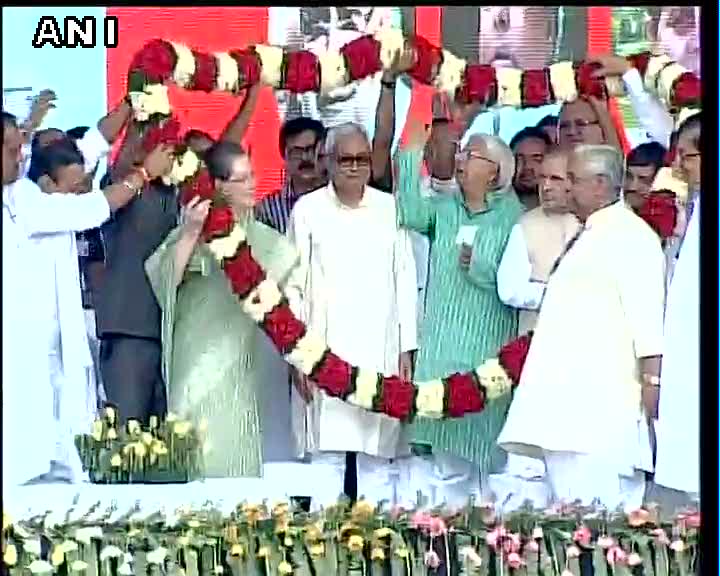 1:25 pm: This is the first time that all the leaders of 'Mahagathbandhan' have come together for an event ahead of the assembly elections in Bihar.
1:23 pm: Ghulam Nabi Azad, leader of opposition in Rajya Sabha also reach the venue for the rally.
1:22 pm: Sonia Gandhi, Lalu Prasad Yadav, Nitish Kumar, Shivpal Yadav and Sharad Yadav sharing the stage at Gandhi Maidan.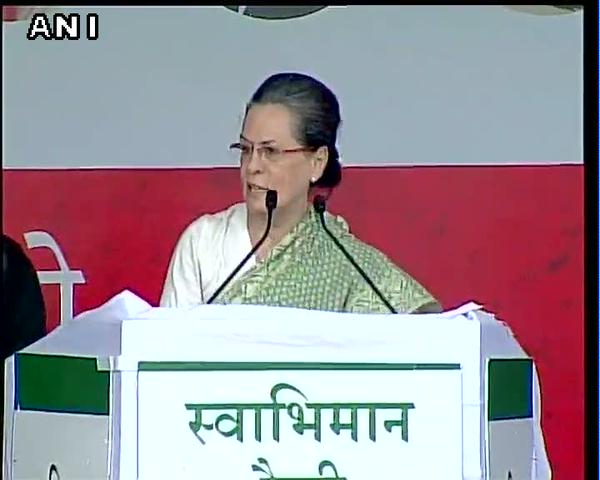 1:16 pm: Congress President Sonia Gandhi reaches the venue.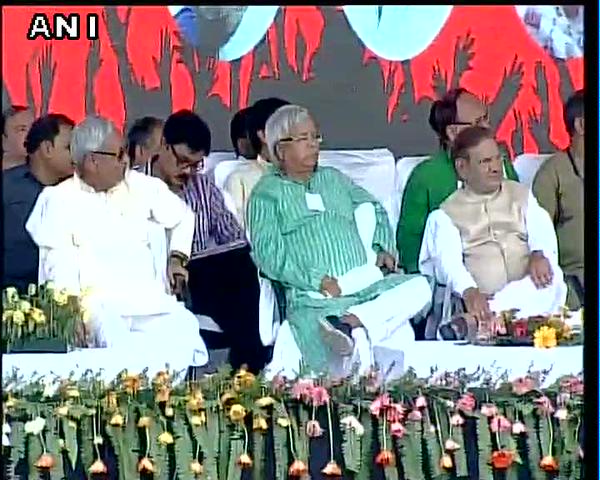 1:12 pm: Samajwadi Party supremo, Mulayam Singh Yadav not attending the rally.
1:10 pm: Sambit Patra, spokesperson of BJP says that Rabri Devi has used the word 'honest' so many times but her party has no relation with that word.
1:00 pm: Former CM of Bihar, Rabri Devi addressing the rally. She urges the people to support 'Mahagathbandhan' and not be fooled by others.
12:45 pm: Congress President Sonia Gandhi and former Lok Sabha speaker Mira Kumar also present on the stage.
12:30 pm: People from different parts of the state reaching the venue in large numbers.
12:20 pm:
'Swabhiman' rally begins at Gandhi Maidan of Patna.