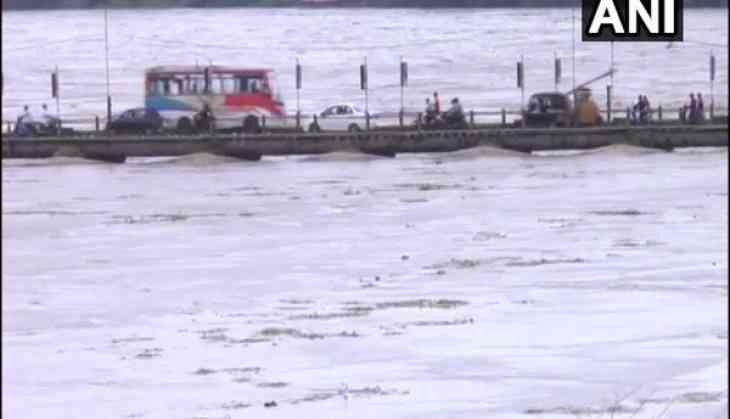 A massive landslide killed eight people in Palakkad district of Kerala this morning even as there was no let-up in the torrential rains in the state where additional defence teams have been rushed to scale up rescue and relief operations.
With this, the death toll in the second spell of monsoon fury since August 8 has risine to 75.
Panic-stricken people in marooned buildings and high-rise flats sought help using social media platforms and patients, including those in ICUs, from various hospitals were shifted to safer places as the flood situation worsened this morning.
As many as 20 people stranded in a theology seminary were airlifted from Ranni in the worst-hit Pathanamthitta district and brought to Thiruvananthapuram by an Air Force helicopter.
Kerala Chief Minister, Pinarayi Vijayan, told reporters here that eight people lost their lives today in a landslide at Nenmara in northern Palakkad.
The situation in the state was "extremely grave", said Vijayan, who spoke to Prime Minister, Narendra Modi and Home minister, Rajnath Singh, this morning seeking more central assistance for relief operations.
"This sort of a situation has never been faced by the state. Areas where floods had never occurred, are witnessing inundation," he said.
"We are doing all that is humanly possible and rescue efforts are going on," he said and urged people not to panic, but take all precautions to keep themselves safe.
Trains services from the state capital have been suspended as of now and Kochi Metro operations have come to a halt.
The Kochi International Airport was already shut till Saturday as rain water entered the airport area.
The 58 dams of the Kerala State Electricity Board (KSEB) and 22 of the Kerala Water Authority (KWA) have touched their maximum capacity, which was unprecedented, Vijayan said.
A PIB release said the Cabinet Secretary chaired a high-level meeting on the Prime Minister's instructions and Army, Navy, Air Force, Coast Guard and NDRF have been asked to mobilise additional manpower, boats and helicopters to scale up rescue and relief operations.
Food packets and drinking water are also being rushed, the release said.
The Central Water Commission Chairman will be monitoring the situation at Mullaperiyar Dam in view of the rising water and heavy inflow.
With possibility of water level rising in Periyar and Chalakudy rivers, people living on the banks, even one km away should shift to safer places, Vijayan said.
The Centre will be sending personnel from the Army's special forces, 40 more teams of NDRF personnel, 200 life buoys and 250 life jackets, he said adding that 10 more helicopters of the Air Force will be arriving in the state today.
Besides, four more Navy helicopters and marine commandos (special force) will be deployed, Vijayan said.
Two Coast Guard ships have moved to Kochi and two more will be arriving soon.
A total of 52 teams of the Army, Air Force, Navy, Coast Guard and NDRF are already engaged in rescue and relief operations.
Reports of massive landslides have been received from high ranges of Thrissur, Kannur and Kozhikode districts.
Causing further concern to the authorities, a series of massive landslides rocked Ambayathode region in Kottiyam in northern Kannur district this afternoon.
Visuals aired by TV channels showed trees being uprooted en masse and huge mud blocks raining down as flood waters gushed down from atop a mountain.
Floods continue to ravage most parts of Kerala, especially Pathanamthitta, Ernakukam and Alappuzha districts, where several people, including children and elderly, are trapped in their houses.
Rise in flood waters in Periyar River due to rains and opening of all shutters of all major dams including Mullaperiyar, Cheruthoni, part of Idukki reservoir, and Idamalayar, have severely affected lives of people in downstream areas.
A high alert situation continues in all the 14 districts in the state.
Over 1.5 lakh people have been moved to hundreds of relief camps across the State, sources said.
(PTI)