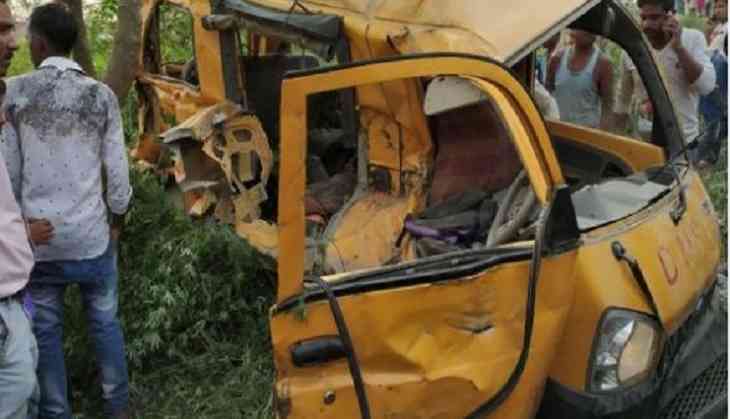 The Principal of Kushinagar's Divine Public school has been held after the13 children of the school were killed after the van collided with a moving train at an unmanned rail crossing today. After which hundreds of people protested in eastern Uttar Pradesh's Kushinagar raised the slogan against the incident. The Uttar Pradesh CM Yogi Adityanath visited the incident and announces ex-gratia of Rs 2 lakh for families of victims.
According to reports, the principal of Divine Public School, whose 13 students were killed on Thursday after the Yellow school van collided with a moving train, was arrested after Railway Minister Piyush Goyal ordered an inquiry into the matter.
According to The Quint reports, Uttar Pradesh CM Yogi Adityanath has ordered the immediate suspension of Basic Education Officer, Block Education Officers of Kushinagar and Dudhi. Adityanath also ordered for suspension of Road Transport Officer and the Passenger Tax Officer. Prime Minister Narendra Modi expressed his condolences and grief over the death of 13 school kid.
The Divine Public School van was carrying nearly 25 students that were passing through the railway crossing in Thursday early morning when the incident took place. The van was reportedly smashed by the train that passed the moments later killing 13 children.
According to the reports, there were near about eight children who were injured in the accident and at least 13 children died on the spot. Reportedly, the accident took place at around 7:10 am. As per the Police officials, the collision occurred at an unmanned railway crossing in Bahpurva between the school van and train.
Reportedly, this is the second school vehicle accident in this month. As on 9 April, 23 children and four adults also died when the school bus driver lost his control and fell into a 100-metre deep gorge at Malkwal area in Kangra district of Himachal Pradesh.
Also read: Kushinagar Bus-Train Accident: People protests against the 13 children death in UP; CM Adityanath says 'nautanki band karo'