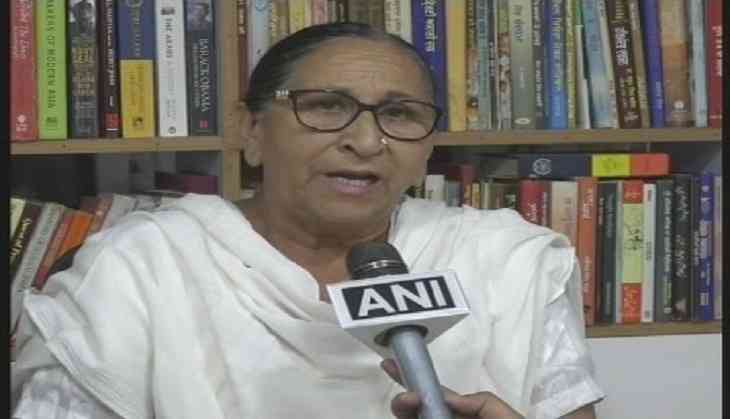 Dalbir Kaur, sister of Sarabjit Singh, who died in a Pakistan jail in 2013, on Monday said Pakistan does not have the courage to announce the punishment of alleged Indian spy Kulbhushan Jadhav this soon, adding the intentions of Islamabad has been exposed in front of the world.
"I am glad that Jadhav is alive and will be freed soon. He would have suffered a lot at Pakistan. I don't think Pakistan would announce the punishment this soon as they do not have the courage to do so. Although they will keep the case hanging as their intentions say it all," Kaur told ANI.
She further said that Jadhav's case is similar to that of Sabarjeet's as in both the cases Pakistan was unable to provide the evidence.
"Pakistan's intentions have been revealed in front of the whole world and I think now is the time when this country should stop these nuisance. The information provided by the reporters and the NGOs in Pakistan proved to be helpful," she added.
Kaur asserted that the past government's helplessness is not showed by the present government.
Demanding for the immediate suspension of the death sentence awarded to former navy officer Kulbhushan Jadhav, India has requested the ICJ to pass provisional orders to desist Pakistan from carrying out the sentence awarded by its military court.
India also sought a declaration that the sentence handed out to Jadhav was in violation of the Vienna Convention.
In April, a Pakistan military court awarded the death sentence to Jadhav for allegedly carrying out espionage and subversive activities in the court.
Jadhav was allegedly arrested in Islamabad on March 3 last year.
India contested Pakistan's claim saying that he was abducted from Iran.
India had appealed against the death sentence on May 8 alleging violation of the Vienna Convention on Consular Relations by Pakistan after its 16 requests for consular access were denied.
The next day, ICJ stayed the sentence.
India, in its appeal to the ICJ, has asserted that Jadhav was kidnapped from Iran where he was involved in business activities after retiring from the Indian Navy.
India acknowledges that Jadhav had served with the Navy but denies that he has any connection with the government.
-ANI