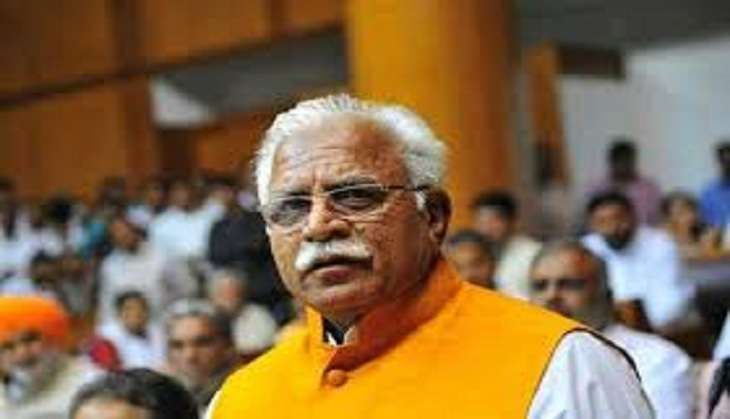 Haryana Chief Minister Manohar Lal Khattar, on 3 November, backed the Centre and asserted that the Bharatiya Janata Party (BJP) government has fulfilled its promise in implementing One Rank One Pension (OROP) scheme.
The Haryana CM also sparked a controversy and said that the ex-serviceman who committed suicide cannot be branded as a 'martyr', as brave soldiers do not take their own lives.
This was the second shocker after Union Minister VK Singh's incendiary remark calling for a probe on the mental condition of ex-soldier Ram Kishan Grewal who allegedly committed suicide over OROP.
"Martyrs are those who give their lives for the nation. Committing suicide does not give you the title of a martyr. He committed suicide for personal reasons. Our Prime Minister implemented the OROP unlike the Congress who failed to do so side. No brave soldier ever commits suicide," said Khattar.
Earlier, VK Singh raised a storm for a second time by claiming that the deceased veteran was a Congress worker.
"He was a Congress worker and who fought Sarpanch election on Congress ticket. His suicide is unfortunate," he said.
The minister also raised questions about the manner in which Grewal committed suicide saying, "Also, how did he procure Sulpha tablets and who gave it to him?"
In response, the Congress asserted that the Centre is hard at work to tarnish the memory of the ex-serviceman.
"Modiji has unleashed the full might of Gen VK Singh, ML Khattar, Anil Vij & Co. to tarnish the memory of Subedar Ramkishan. Utterly deplorable," Congress leader Randeep Surjewala said.
After the suicide of ex-serviceman Ram Kishan Grewal plunged the capital into chaos yesterday, Union Defence Minister Manohar Parrikar today asserted that one lakh people are yet to be benefited under the One Rank, One Pension (OROP) scheme and will be assisted soon after the rectification of error causing the delay.
Parrikar elucidated that the delay in sanctioning money under the OROP scheme is being caused due to some technical error and said, "One lakh people are yet to get full benefit of the OROP. There is some technical issue in it. We will soon sort out the paperwork."
Grewal consumed poison on 1 November. However, the cause behind his suicide is yet to be ascertained.
The 69-year-old former jawan was protesting over the OROP issue at Jantar Mantar in Delhi when he committed suicide.
--ANI