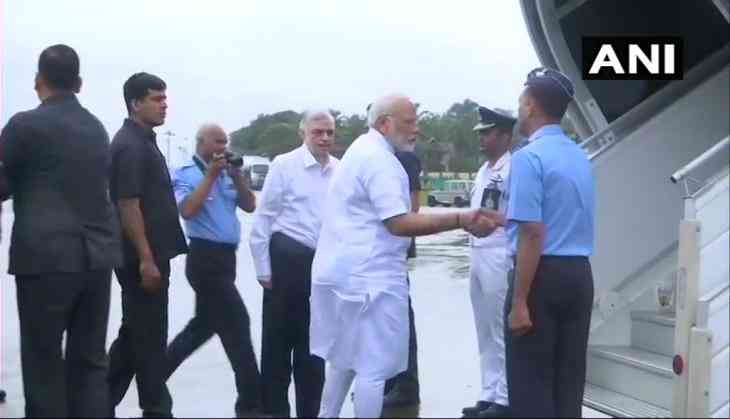 Kerala's situation has been worsening till date after it has witness disastrous floods in 100 of years in which 324 people died. The Prime Minister Narendra Modi's aerial survey has been called off after the bad weather in the states. Media reports of PM Narendra Modi's aerial survey being cancelled not yet confirmed, PM currently chairing a meeting in Kochi with CM Pinarayi Vijayan, Union Minister KJ Alphons and other officials.
At least 10 districts have been affected badly by 14 districts. While lakhs of people have been shifted to relief camps as nearly 100 dams, reservoirs and rivers have overflowed, landslides and homes swept away amid warnings of worse weather to come.
#WATCH: Rapid Action Force (RAF) personnel distribute relief material to stranded people in flood affected Palakkad's Mangalam Dam village. #KeralaFloods pic.twitter.com/2WvqDsflrn

— ANI (@ANI) August 18, 2018
More than 30 military helicopters and 320 boats are attempting rescues across Kerala. Heavy rains, accompanied with strong winds have also been predicted for today and tomorrow. "It is an extremely grave situation," the Kerala government said last evening.
Kerala Chief Minister Pinarayi Vijayan also worried about the situation in the state and he termed the situation caused because of the torrential rain, flash floods and also the landslide in the state as 'really serious'.
According to the Kerala CM, around two lakh people have been shifted to 1,568 relief camps while many are still stranded. From the last five days, the air, railway and road services, all have been disrupted due to heavy rainfall.
Yesterday Captain P Rajkumar Shaurya Chakra winched up 26 people from a SeaKing 42B helicopter, in extremely challenging conditions hovering between trees and in the limits of man and machine, said Indian Navy.
Reportedly, fresh landslides also come to notice from Wayanad and Kannur districts. "We are trying our best to rescue marooned people. Saving lives is our main concern now. Rescue operations are being taken up on a war footing with choppers and boats," Vijayan said.
HELPLINE NUMBERS: DC Kodagu: +91-9482628409 CEO ZP Kodagu: +91-9480869000. Helicopter helpline: Alpy +91-8281292702,Chandru - +919663725200,Dhanjay- +91 9449731238,Mahesh - +91 9480731020 Army: +91-9446568222
Also read: Kerala Floods: After 324 people death, PM Modi to undertake an aerial survey of affected areas today