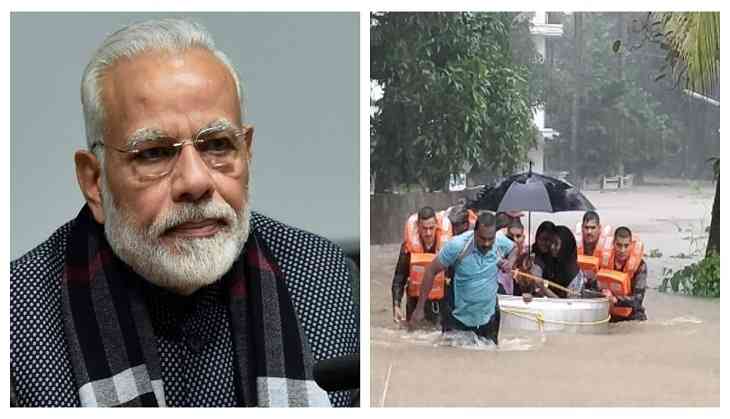 The situation in Kerala remains worsened as the death toll rose to 324 on Friday due to floods in the state. Prime Minister Narendra Modi has arrived in the state to do the survey of the catastrophe in the state. Today, PM Modi will undertake an aerial survey of the affected areas.
Kerala Chief Minister Pinarayi Vijayan also worried about the situation in the state and he termed the situation caused because of the torrential rain, flash floods and also the landslide in the state as 'really serious'.
Earlier on Friday morning, CM quoted the toll as 164 but later, the death toll raised and as per the reports at least 16 people more died in the hours. In the last two days, over 120 people have lost their lives due to the floods.
Also read: Kerala Flood: Pregnant lady airlifted from flood-hit area by an Indian Navy and gives birth to a baby boy
According to the Kerala CM, around two lakh people have been shifted to 1,568 relief camps while many are still stranded. From the last five days, the air, railway and road services, all have been disrupted due to heavy rainfall.
He also took to Twitter and told about the situation in the state.
Kerala is facing its worst flood in 100 years. 80 dams opened, 324 lives lost and 223139 people are in about 1500+ relief camps. Your help can rebuild the lives of the affected. Donate to https://t.co/FjYFEdOsyl #StandWithKerala.

— CMO Kerala (@CMOKerala) August 17, 2018
Reportedly, fresh landslides also come to notice from Wayanad and Kannur districts.
"We are trying our best to rescue marooned people. Saving lives is our main concern now. Rescue operations are being taken up on a war footing with choppers and boats," Vijayan said.
He also added that around 15,000 people have been rescued from the danger in the last two days. He also refuted the reports that few dams in the state were in the danger of bursting.
Also read: Pictures of Koode actor Prithviraj Sukumaran's mother being rescued from their home in Kerala flood will make you teary eyes