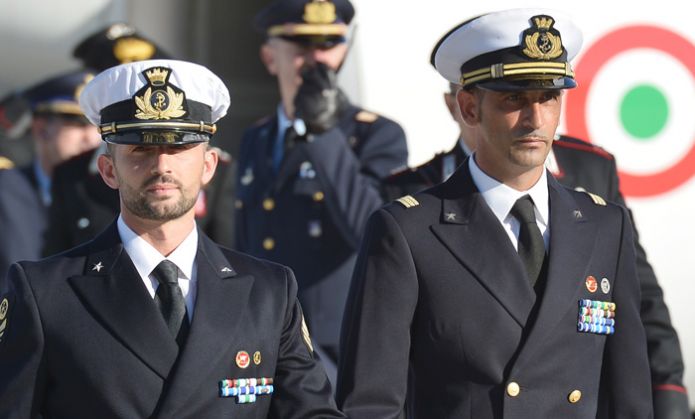 The BJP government might find itself in hot water after the Italian Senate's defence committee categorically said that Italian marine Massimiliano Latorre will not return to India.
Latorre is one of two marines accused of killing fishermen off the Kerala coast on 15 February, 2012.
The Supreme Court had in September 2014 allowed the Italian marine to go home for four months after he had suffered a brain stroke. His stay was later extended. In keeping with the fresh deadline set by the apex court, Latorre must return to India tomorrow, something which seems unlikely.
Kerala Chief Minister Oomen Chandy has opposed the decision of the Italian Senate committee and sought Prime Minister Narendra Modi's immediate intervention in the issue.
Italy has also been seeking the return of the other accused marine, Salvatore Girone. The head of Italy's Senate Defence committee, Nicola Latorre, told the country's ANSA news agency on Tuesday that the marine would not go back to India. He said:
"Massimiliano Latorre will not go back to India and work is being done on the possibility of requesting for Salvatore Girone to be able to return to Italy".
C. Unnikrishnan, the lawyer of victim's wife, told ANI that one of the two marines was taken to Italy for medical purpose for a tenure of six months, adding that the extension given to him is getting over today.
"The ambassador of Italy filed an affidavit seeking release of that man to take him to Italy. The Supreme Court granted the permission because it was a medical case. Now, they are retracting from their promise. That is highly unfair. The Supreme Court can initiate any proceeding against him," he said.
Asserting that Italy's stand was totally wrong, Unnikrishnan said that the apex court allowed him to leave the country on medical ground, adding now it is his responsibility to obey the order of the highest court.
"The Italian marine has no diplomatic protections. Therefore, the Supreme Court can take suo-moto; any action for violation of their orders," he added.
With inputs from ANI