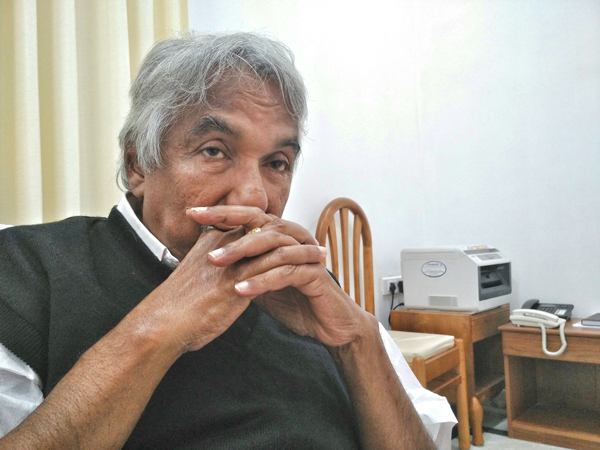 The Congress leader has been facing a wave of protests in the Solar scam.
A key accused alleged that she had bribed the power minister Aryadan Mohammed and Chandy\'s aide, Thomas Kuruvilla to push a few key solar power projects.
The Kerala High Court on Friday granted a 2-month interim stay on the vigilance court order that sought an FIR to be registered against Oommen Chandy and Power Minister Aryadan Muhammed.
The HC, criticising the Vigilance Court judge, observed that the he had unwittingly called himself just a 'postman' in the order.
In reaction to this, the Vigilance Court judge SS Vassan has applied for VRS.
The Congress leader has been facing a wave of protests in the Solar scam, with Opposition leaders demanding his resignation.
The vigilance inquiry commissioner and the Thrissur special judge Vassan have directed that an FIR be registered against Chandy and Kerala power minister Aryadan Mohammed.
Chandy, who has been denying the charges, told reporters on Friday that the allegations were false.
"Why should I resign? I am telling the people of Kerala that even if there is one per cent truth in what is being claimed, forget about resigning as Chief Minister, I will quit politics".
Violent protests across Kerala
Madhyamam reported that Chandy faced protests from SFI activists at Calicut University. Protests have also been reported at Chandy's Kozhikode Guest House and the Kozhikode railway station.
The mob reportedly turned violent, with DYFI and Students Federation of India workers marching to the Secretariat and engaging in stone pelting. The Hindu reported that at least 10 protestors and four police officers have been injured
According to reports, the police used pepper spray and lathi charge to disperse crowds protesting across the state.
The Hindu also reported that four members of the All India Youth Federation had scaled the compound wall of the Secretariat. The four have been produced in court.
Three cases have been registered in connection with the protests on Thursday, The Hindu quoted police officials as saying.
The scam
The FIR has been registered on charges that Saritha S Nair, the key accused in the scam had paid Thomas Kuruvila - a close aide of Chandy - and Aryadan bribe amounts of Rs 1.9 crore and Rs 40 lakh respectively, to back the solar power projects of her company.
Congress chief spokesperson Randeep Surjewala told reporters that the row was politically-motivated.
"It is election time in Kerala, mischievous and malicious allegations will continue to fly... No need for the Kerala Chief Minister to resign now".