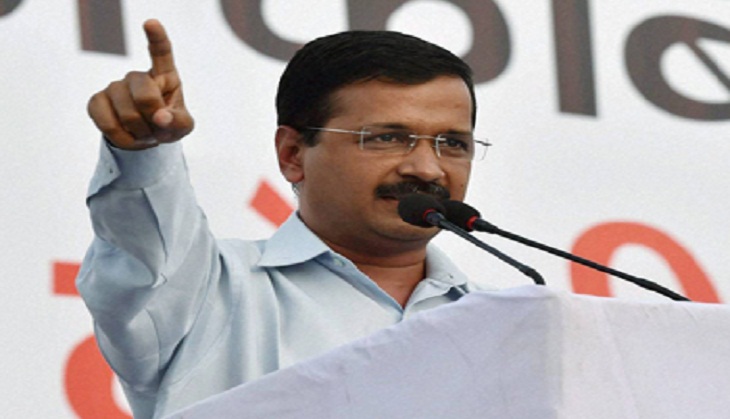 On 5 May, Delhi Chief Minister Arvind Kejriwal reiterated his demand to get former Maharashtra Revenue minister Eknath Khadse booked under sedition on the basis on grounds on impropriety and his alleged links with underworld don Dawood Ibrahim.
He has however been in constant support of Patidar quota agitation leader Hardik Patel, who has been in prison for almost eight months on charges of sedition.
"Gujarat government should withdraw sedition charges against Hardik Patel. He is not guilty of sedition. Khadse is. Book Khadse under sedition," Kejriwal said in a tweet.
Earlier, in a video message, Kejriwal defended Hardik Patel saying that all he had done was raise his voice for his own people, not against the nation.
"Hardik Patel is in jail for the last eight months and he has been charged with sedition. People told me that they are very upset with this. What is the mistake of Hardik Patel? He raised his voice for Gujarati's and fought for their rights. He never raised voice against the nation. He never spoke of breaking the nation," he said.
He also said that Patel never spoke a word on dividing the nation, whereas Khadse had links with someone who is an enemy of the nation.
"Now, there is a Maharashtra Minister, Khadse sahib. His alleged conversation with Dawood Ibrahim, who is the enemy of the nation, came to light. That way Khadse is 'deshdrohi', but government takes no action, instead, it takes action against Hardik Patel," he added.
Patel was arrested on 19 October 2015 by the Rajkot Police after an FIR was filed against him at the Paddhari police station in connection with the matter.
On 4 June, Khadse resigned from his post following allegations of impropriety with regard to a land deal and alleged calls from underworld don Dawood Ibrahim.
He met Fadnavis amid reports, that the Bharatiya Janata Party (BJP) had begun the process to act against him.
The development came after Fadnavis met Prime Minister Narendra Modi in Delhi late on Thursday night, hours after he gave a report to BJP chief Amit Shah on Khadse.
The most senior minister in the Fadnavis government is facing serious allegation over an illicit land deal and his cellphone allegedly appearing in the call records of most-wanted gangster Dawood Ibrahim.
--ANI