Namit Hans
| Updated on: 13 February 2017, 3:42 IST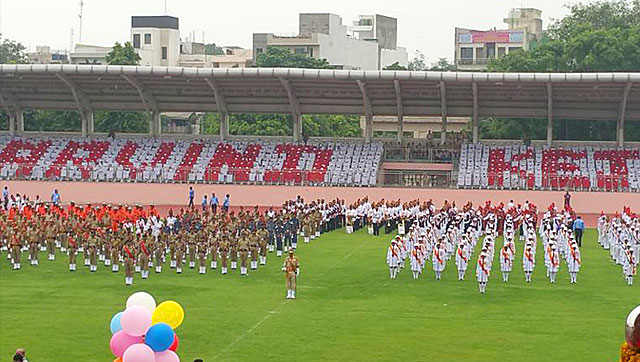 The Delhi Chief Minister, Arvind Kejriwal came under attack from opponents and public after a photo of his name being displayed by formation of school children during Independence Day celebrations in Delhi went viral on Twitter.
The photo was tweeted by AAP MLA Kapil Mishra after which strong reactions started coming from all quarters. The incident happened at Chhatrasal stadium of Delhi as students used placards and handkerchiefs to display formation of Kejriwal's name.
The BJP accused him of misusing Independence Day celebrations and demanded an apology from him. They also alleged that Kejriwal was using public funds for 'self-glorification'.
However, AAP government says that the formation was not made on the instructions of Arvind Kejriwal. Gopal Rai, Delhi Transport and Labor Minister, said that AAP did not like the idea but agreed after they got to know that it has been a common practice for the last few years.
Sanjay Jha, National spokesperson of Congress party, took a dig at both Kejriwal and Prime Minister Narendra Modi. He tweeted "Narendra Modi and Kejriwal are both self and media obsessed megalomaniacs, who profess the dangerous cult of one person over the rest."
His friend turned foe, Prashant Bhushan, also attacked Arvind Kejriwar. "From crs on personality cult promoting Kejriwal ads to 'jai ho Kejriwal' instead of 'Jai Hind'. Shameful megalomania!,(sic)" he tweeted.
Congress minister Ajay Makan also expressed his disappointment and wrote " I don't believe this. It's a shame."