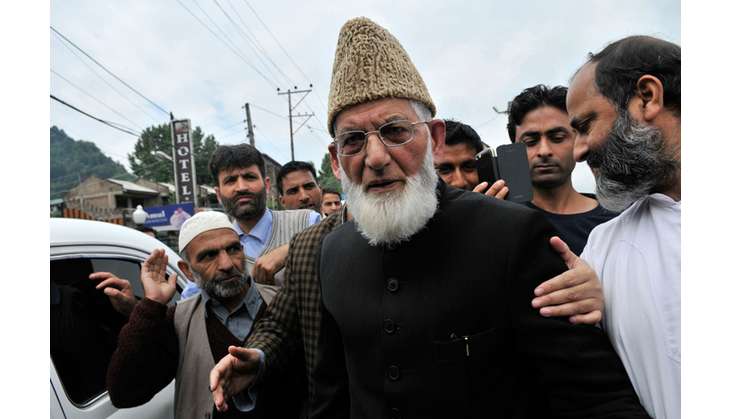 In the wake of the Centre cancelling Hurriyat leader Syed Ali Geelani's press conference in Srinagar on 9 September, the separatist leader has issued a statement thanking Pakistan and China for supporting the "struggle of Kashmiris".
The Hurriyat had called for a press conference at 11 am at Geelani's house where he remains under house arrest.
According to reports, this is the second time that Geelani has mentioned China since violence broke out in Kashmir after the killing of Hizbul Mujahideen commander, Burhan Muzaffer Wani, on 8 July.
On 17 July, Geelani wrote to China and other countries, seeking support for the resolution of the Kashmir issue. Geelani asked China and Iran convince India to take confidence building measures (CBMs).
"We are also thankful to several other countries like China, Norway, Saudi Arabia, New Zealand, Iran and to the Organization of Islamic countries (OIC) for expressing concern over the brutal repression by India in Kashmir. We are also thankful to Turkey for its unambiguous support to our just struggle for freedom from Indian occupation," Geelani said in the statement.
According to an India Today report, Geelani praised Pakistan and said: "During this uprising, Pakistan has once again proved that they are our friends and well-wishers. Pakistan and its people shared our pain and raised their voice in our support. We are happy that at a time when the people of Jammu and Kashmir have once again risen for their freedom, Pakistan and its people have taken an ethical stand to support our struggle morally, politically and diplomatically."
"Shaken by our resolve and our united struggle for freedom, India has once again started the farce of engagement that it time and again has used to divert attention from the reality on the ground here. They will come again to ask - what do we want. They know the answer to that question. We want freedom," Geelani was quoted as saying.
The Valley has been under the grip of unrest for last 63 days. At least 75 people have been killed while close to 10,000 have been injured during the unrest.
--With agency inputs