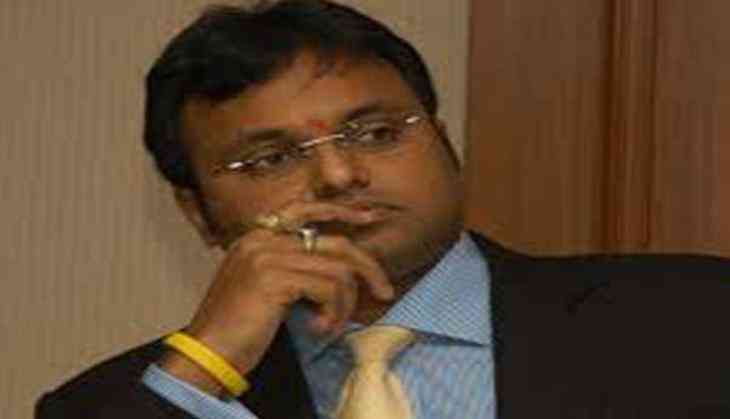 Karti Chidambaram, son of former union minister P. Chidambaram, on 4 August moved to the Madras High Court asking if any look out notice is issued against him.
Assistance Solicitor General sought time to get information on the matter.
Earlier on 21 July, Karti moved the Madras High Court seeking quashing of a CBI (Central Bureau of Investigation) case against him for which he was summoned by the investigative agency for questioning.
On 19 July, the CBI sent a second notice to Karti summoning him to the CBI headquarters on 21 July for questioning regarding the INX Media Case.
Earlier, the CBI had summoned Karti between 27-29 June , but Karti, through his lawyers, informed the investigating team that he needed more time, before he could appear for questioning.
According to the CBI, INX Media stated in its records that an amount of Rs. 10 lakh was given to Advantage Strategic Consulting (P) Limited, a firm the CBI said was "indirectly" owned by Karti, for management consultancy charges towards the Foreign Investment Promotion Board (FIPB) notification and clarification.
The FIPB is a body under the Finance Ministry that clears investment proposals.
Karti has accused the CBI of hatching a conspiracy against him and has alleged that the CBI was nailing him because of its frustation arising out of its inability to prove anything against him and his father in connection with the Aircel-Maxis case.
The Aircel-Maxis deal refers to a series of allegations of kickbacks in the telecom sector, which was part of the wider 2G scam that engulfed the UPA regime. In 2011, former Aircel head C Sivasankaran complained to the CBI that he was being forced by then telecom minister Dayanidhi Maran to sell Aircel to the Malaysia-based Maxis Communications group owned by T Ananda Krishnan.
Earlier in February, the then communication minister Dayanidhi Maran and the others accused in the Aircel-Maxis case, were discharged by a special CBI court.
Senior Bharatiya Janata Party (BJP) leader Subramanian Swamy had alleged that in 2006 a company controlled by Karti Chidambaram received a 5% share of Aircel to get part of Rs 4,000 crore paid by Maxis for a 74 percent stake in Aircel. According to Swamy, Chidambaram withheld FIPB clearance till the 5% was paid to Karthi.
-ANI