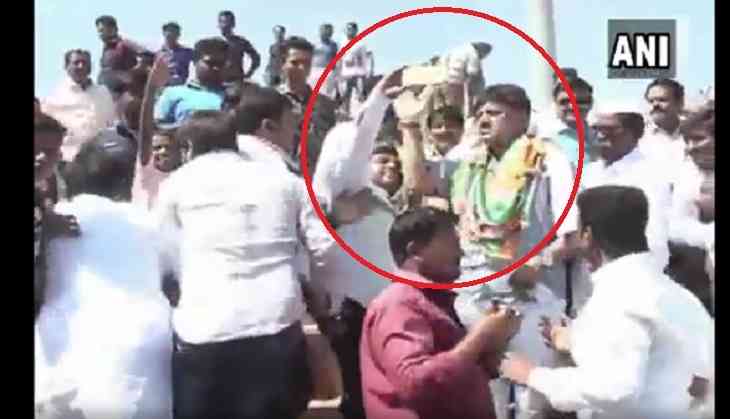 Karnataka Minister DK Shivakumar once again loses his cool and slaps a man trying to take a selfie; Video goes viral (ANI)
Karnataka Energy Minister DK Shivakumar once again lost his cool and burst out on a man who was trying to take a selfie with him. The incident took place in at the Vijayanagara College Stadium in Hosapete on Sunday.
Shivakumar was surrounded by party supporters when he had come to supersede the construction of the stage for All India Congress Committee (AICC) president Rahul Gandhi's event on February 10. Among those crowd, one of the party supporters was trying to take a selfie with him and at the very moment, the minister lost his cool and slapped the man at a public event.
#WATCH Karnataka Minister DK Shivkumar slaps away phone of a man who was trying taking a selfie with him in Bellary (4.2.18) pic.twitter.com/iLo6OSyT2Z

— ANI (@ANI) February 5, 2018
This is not the first time when the minister has shown his ire at a public event. Earlier in November 2017, he was found hitting a man who clicking selfie behind him at a public event in Belgaum. This incident got captured on camera and later it went viral on the internet. while talking about his action Shivakumar called it a 'normal incident'.
"Have basic common sense. When I'm doing my responsibility and addressing the press, how can someone come out for a selfie? It was a normal incident," Shivakumar said while defending his action.
#WATCH Karnataka Min DK Shivkumar hits a man who was taking a selfie during a child rights event at a college in Belgaum (Mobile Video) pic.twitter.com/Sc2jMyK08a

— ANI (@ANI) November 20, 2017
Karnataka Energy Minister, DK Shivakumar is the Chairman of Congress Campaign Committee in poll-bound Karnataka. Minister's short-tempered behavior and his properties in Bengaluru, which were raided by the Income Tax Department in August 2017 had hit the headlines.