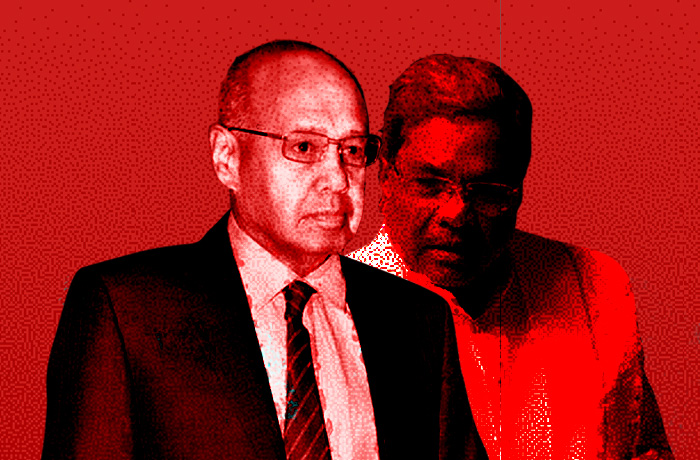 Ashwin Rao, son of Karnataka Lokayukta justice Y Bhaskar Rao, has been arrested by SIT officials from a house in Ranga Reddy district, Telangana. Ashwin has been allegedly operating a multi-crore extortion racket from his father's residence and the Lokayukta office amid widespread public outrage over the reported abuse of office.
According to media reports, SIT will produce Ashwin before a local magistrate court today, request for police custody, and take him to Bengaluru. The SIT has already arrested four men, including joint commissioner and PRO-Syed Riyaz.
The infamous tale of Karnataka Lokayukta
Ashwin's arrest is the first major development in the case since May 7. It was on the same date when the Lokayukta Superintendent of Police, Sonia Narang, made a sensational disclosure that Ashwin blackmailed State public works department executive engineer M.N. Krishnamurthya and demanded R1 crore to stop a raid by the anti-corruption police. Syed Riyaz and Ashok Kumar, a realtor, reportedly helped Ashwin in taking the bribe.
Narang named Ashwin, Riyaz and Kumar in the FIR she registered on July 1, along with others, including Shanakare Gowda, an RTI activist, and Srinivasa Gowda, a TV journalist with a Kannada news channel.The SIT arrested Kumar, Shanakare and Srinivasa last week. Syed Riyaz was nabbed in Bengaluru on 26 July night.
Also read - From crusaders to scamsters: what corrupted the Karnataka Lokayukta
Following the discovery, many other bureaucrats started pouring into the Lokayukta office claiming they too had been blackmailed.
At last count, the Lokayukta police found that Ashwin and his accomplices allegedly extorted nearly Rs. 200 crore from more than 100 government officials.
However, Bhaskar Rao has been claiming that his son is innocent.
After a public outcry and a series of protests from organisations such as the bar council of Karnataka, RTI Activists' Association and the Aam Admi Party, the government handed over the case to an special investigation team.
According to media reports, the SIT's preliminary investigation and interrogation of three suspected extortionists has revealed that Riyaz was one of the kingpins in threatening many officials of booking graft cases and raiding their premises if they did not pay ransom.
The SIT is also reportedly on the lookout for Riyaz's brother-in-law Sadiq in the state's Malnad region for allegedly being part of the extortionist ring in the anti-graft institution.
Demonstrations, however, continue and the protesters are demanding the resignation of Bhaskar Rao.