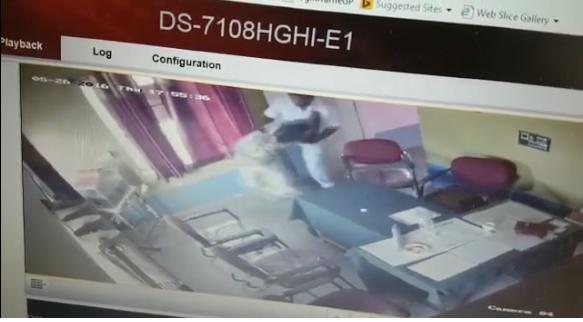 On 28 May, a Gram panchayat president in Karnataka was arrested on charges of allegedly molesting a female Group 'D' employee.
The CCTV camera - installed in the Panachayat office in Kestur near Maddur taluk of Mandya district, Karnataka - captured footage of the accused, Chandrahas, a Janta Dal (Secular) leader, sexually abusing the woman by dragging and forcefully lifting her.
Panchayat workers watched the footage and lodged a complaint with the Kestur police. They have demanded that his membership be disqualified. Following the development, the police detained the accused, Chandrahas on 27 May for interrogation, The Hindu reported.
The report quoted police as saying that Chandrahas was elected from the Basavalingana Doddi village in the gram panchayat elections held last year and became the president amid strong opposition from the members of his own party.
The victim, reported to be a widow from Basavalingana Doddi, who has been working at the gram panchayat office for the last six years, told the police that Chandrahas tried to rape her at the office at 6pm on Thursday, when everybody had left the office."As I was leaving the office, he intercepted me, dragged me, lifted me and tried to rape me," she said.
"We will request the victim to file a complaint. In case she not willing to file, we will initiate suo motu action against the accused,"The Hindu quoted a senior police officer as saying.