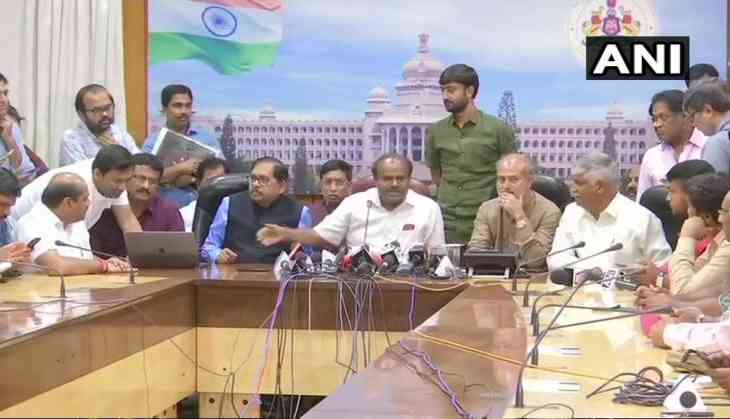 Karnataka CM HD Kumaraswamy
Ahead of the Lok Sabha elections of 2019, the Karnataka government will be presenting its budget and a there is a noise in the corridors of Bengaluru that CM H.D Kumaraswamy would be presenting sops to public and the legislators.
Ahead of the budget, the sources have claimed that JDS leader and CM Kumaraswamy would be giving plum posting to the dissenting MLA's of the Congress and JDS, so as to normalize the unhealthy situation carrying on in the Assembly of Karnataka, where the BJP yesterday protested and walked claiming that the current government is not in majority.
News agency ANI has tweeted where Kumaraswamy has alleged that BJP is playing horse trading with the legislators of JDS.
Karnataka CM HD Kumaraswamy releases an audio clip of a conversation allegedly between BJP State Chief BS Yeddyurappa and JDS MLA Naganagowda Kandkur's son Sharana where Yeddyurappa made an offer Rs 25 lakh and ministerial post for his father pic.twitter.com/kWGZiJ3Wow

— ANI (@ANI) February 8, 2019
Karnataka CM HD Kumaraswamy: On one side Narendra Modi is preaching to the country and politicians, on the other side, he is encouraging his friends to demolish democracy through black money. I will expose this now, I have the proof to back my charge. pic.twitter.com/wm1DTjfNSn

— ANI (@ANI) February 8, 2019
"Karnataka CM HD Kumaraswamy releases an audio clip of a conversation allegedly between BJP State Chief BS Yeddyurappa and JDS MLA Naganagowda Kandkur's son Sharana where Yeddyurappa made an offer Rs 25 lakh and ministerial post for his father."
Karnataka CM further targeted PM Modi saying, "On one side Narendra Modi is preaching to the country and politicians, on the other side, he is encouraging his friends to demolish democracy through black money. I will expose this now, I have the proof to back my charge."
Adding to his comment, Kumaraswamy said, "He (PM) is systemically demolishing this country's democracy, misleading the people, I request all the opposition parties to rise. They must expose the truth of the Prime Minister in the parliament."
ALSO READ: Rafale row: Rahul Gandhi mentions 'The Hindu' report during press brief, claims 'Defence Ministry objected to