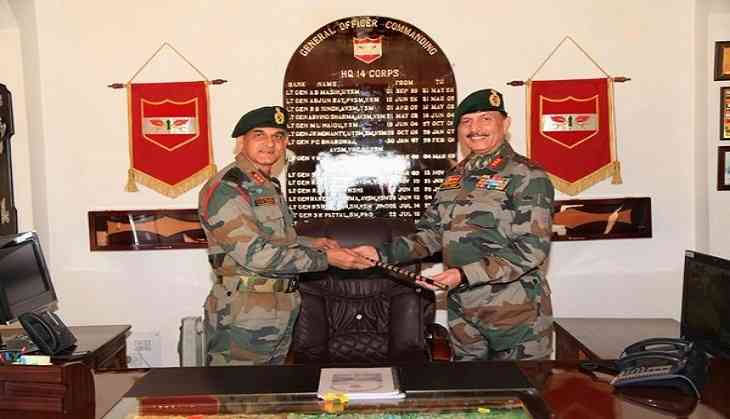 Kargil war hero Lieutenant General YK Joshi, who led the capture of Tiger Hill as the Commanding Officer of the 13th Jammu and Kashmir Rifles, took charge of the Indian Army's 14 corps, entrusted with the defences of Ladakh which includes Kargil.
Lt Gen Joshi has been appointed the General Officer Commanding of the 'Fire and Fury' Corps, and assumed command of the battalion as its 17th Corps Cdr, from Lt Gen SK Upadhya.
Lt Gen Joshi has commanded a Brigade and a Division in this sector, in addition to taking command of his unit at Dras during Operation VIJAY in 1999. Prior to assuming the appointment of GOC of the Corps, he tenanted the appointment of Director General, Infantry. On taking over, he exhorted all ranks to continue discharging their duties with same commitment and zeal.
During the Kargil war, the then Colonel Joshi led the 13th Battalion of the Jammu and Kashmir Rifles to launch four successful attacks, including the one to Pt 4875 which is now called Batra Top after Major Vikram Batra who laid down his life and was awarded the Param Vir Chakra.
The battalion under him earned great laurels, including two PVCs, 8 Vir Chakras (including him) and 14 Sena Medals. The Battalion was also conferred with the title of the 'Bravest Of the Brave.'
This is General Joshi's fourth tenure dealing with Chinese troops. Earlier, three postings, including him going to China as the Defence Attache (2005-08). He commanded his brigade and Division in Eastern Ladakh in addition to handling the appointment in the Military Operations Branch in the Army Headquarters. He has also led the Army in various talks with the Chinese officials both in India and in China.
The Corps has the areas of the Western and Eastern Ladakh under its responsibility. Western Ladakh includes the Kargil, having its Line of Control (LoC) with Pakistan, while in eastern Ladakh, the Corps shares its Line of Actual Control (LAC) with China. The world's highest battleground, Siachen Brigade, comes under this Corps.
(ANI)